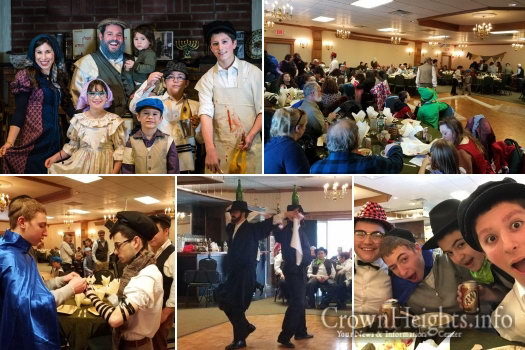 Purim was celebrated "Shtetl" style at Chabad of Orange County's Gala community, hosted by Shluchim Rabbi Pesach and Chana Burston.
"Purim in the Shtetl" was held Sunday, Purim day, at the American Legion Banquet Hall in Monroe. The festive and well attended event featured all the Purim "traditions." True to the theme, there was a buffet with Shtetl foods (including deli meats, chicken soup station, salads, kugels, stew, kishke and more), Mottel's Megillah, Hodel's Hamantashen, Matchmakers Masquerade, prizes and raffles. There were also "Fiddler on the Roof" parody songs led by Rabbi Pesach and Gabbai Ira Kanis, with Isabel Laufer on the fiddle. There was also entertainment by 'The Amazing Bottle Dancers.' During Megillah, many adults and children alike had fun jumping on bubble wrap to boo Haman.
Bochurim from Mesivta Lubavitch of Monsey helped with the party and assisted many with Mivtza Tefilin, among them a 43 year old karkafta!
Dr. Michael Hoffman of Goshen, who attended the event along with his family, stood up at the event and publicly expressed to all in attendance his appreciation to Chabad for making Judaism so much fun, relevant, accessible and welcoming to anyone who wishes to join. Chabad also thanked the participants as well as the tremendous dedication of all the community sponsors and volunteers and staff for making the event possible. "It takes a 'Shtetl' to raise an organization," Rabbi Pesach said in jest.