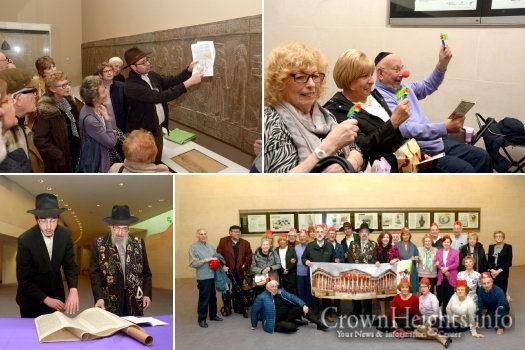 Rabbi Yitzchok and Mrs. Tzipporah Sufrin arranged for the Enfield, UK Jewish community to celebrate Purim in a unique, ground-breaking and spectacular way, making Purim come alive in a meaningful and real manner: The Megillah reading, along with the festive Purim meal and mishloach monos, took place within the world famous British Museum.
The British Museum is the largest and one of the greatest museums in the world. Over 6 million people visit it every year to see the rare artifacts and magnificent objects on display.
The Megillah was read by Yitzchok Dubov, a Lubavitch trainee rabbi, and this was followed by the festive meal.
The group then made their way to the gallery housing the Ancient Persia display, where Dr. Rafi Zarum, Dean of London School of Jewish Studies, described and discussed the objects on display and their connection to the Purim story –linking the present to the past, and making those objects significant and authentic.
The group learned much about the Persian politics behind the Purim story, and gained original insights into the intrigues in the megillah.
The Chief Rabbi of the UK, Rabbi Ephraim Mirvis, supported the event through the CCE.