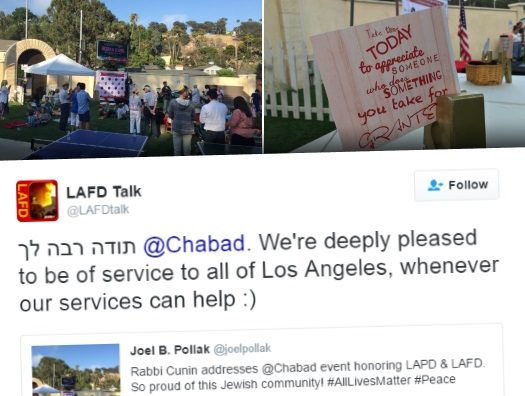 From Breitbart:
Last weekend, Chabad of Pacific Palisades, California, honored local police and firefighters with a community barbecue that drew guests from well beyond the Jewish community itself.
Roughly 200 people came to the event, in addition to representatives from two local fire stations and one local police precinct. According to organizers, the barbecue had been arranged immediately after the murder of five police in Dallas last month.
Children swarmed a fire truck and a police cruiser, and jumped for hours inside a bouncy house shaped like a fire engine. The rabbi, Zushe Cunin, presented plaques to each of the police and fire contingents, each bearing a prayer for safety, blessing the work of law enforcement and emergency response. He also honored one firefighter who had attended the Chabad preschool.
Click here to continue reading at Breitbart.
The LAFD was so touched by the gesture they tweeted a thank you to Chabad in Hebrew:
תודה רבה לך @Chabad. We're deeply pleased to be of service to all of Los Angeles, whenever our services can help :) https://t.co/LOI2XkAEyg

— LAFD Talk (@LAFDtalk) August 1, 2016