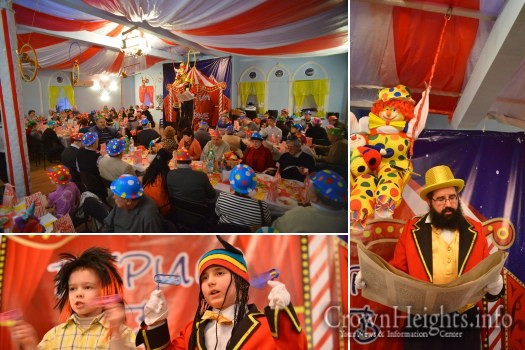 Turning the main synagogue of Sumy, Ukraine, into a circus was not an easy task. A tent had to be devised to hang throughout the ceiling without a nail knocked in the wall. The Purim props began to slowly fill the Shul and the Shluchim Rabbi Yechiel and Rochi Levitansky with their dedicated staff came up with exciting ideas to decorate it.
The word spread; this year would be Purim in the Circus! As the reservations came in, more tables and chairs had to be added, making this the largest crowd so far for Purim in Sumy Ukraine!
The people were greeted as they entered by the 'Ticket Booth', where they gave Matonos L'evyonim and received a ticket for a raffle of kosher wine. Then they proceeded to the puppet theater where the Yaldei Hashluchim helped them wash for the Seudah and make the Brochos. On the way into the Shul, after stopping to pose for a picture with the stationary clowns, each person received a clown hat to wear. Thus the Purim Circus mood began!
Settling into their seats everyone found a popcorn bag with Mishloach Monos and exchanged packages with the people sitting next to them. The clowns pulling wagons with challah rolls on the table, the hula-hoops and clowns hanging overhead and the circus tent created a lively atmosphere and a feeling of unity in this year of Hakhel. Circus Master Rabbi Levitansky read the Megilah on top of a ladder while two mimes revved up the crowd when Hamans name was mentioned.
The most noticeable change this year was a group of fifty men and women who are part of the Kolel Torah Program. These Yidden have been learning about Purim in depth for weeks in advance and were able to really appreciate and participate in all of the Mitzvos of Purim.
The program was highlighted by the 'Or Avner' Preschool Song and Dance Performance, where the community cheered along with lively clapping and singing. A hilarious mime show, as well as the favorite annual 'Hup Kazzak' dance by the Shluchim children, added to the atmosphere of the joyous event. A talent show and circus games with volunteers from the crowd were led by a professional entertainer.
There was plenty of L'chaim and delicious homemade food for the Seudah, enticing many to stay and Farbreng late into the night and making Hachlotos to grow in their Yiddishkeit.