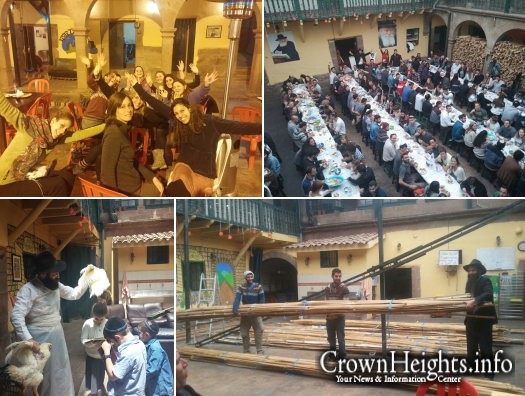 Chabad of Cusco, Peru, directed by Rabbi Ofer Kripor, has concluded two months of intensive activities. The high altitude city's thin air has been unable to slow the Shluchim's dedicated work.
"For a Chabad House like ours that deals primarily with young backpackers, there are two peak seasons; Pesach and Tishrei", says Rabbi Kripor. "The Israeli backpackers touring the vast continent of South America plan their route in advance to enable them to spend the major Yamim Tovim at the large Chabad Houses. Our Chabad House is located at one of South America's top tourist destinations, and a large number of tourists converge here for Yom Tov."
Chabad of Cusco was the first Chabad House to open in South America for young backpackers, or mochileros, as they are known locally. Rabbi Ofer travelled the continent 20 years ago, and together with his wife Yael, herself a veteran of the Far East trails, arrived in Cusco 10 years ago to open the first Chabad House for backpackers on the continent that attracts thousands of young Israelis every year.
"Over the two weeks preceding Rosh HaShanah, Cusco begins to fill up with backpackers coming to celebrate the holidays with Chabad of Cusco. The restaurant we operate during the entire season begins to fill daily. Backpackers register for the Yom Tov meals, join Slichos Davening, and experience the atmosphere of Elul even in this distant Indian village."
The high point of the Tishrei Yamim Tovim are the public Yom Tov meals. Hundreds of young backpackers attend the Rosh HaShanah meals, Seudah Mafsekes on Erev Yom Kippur, and of course the Sukkos meals, as the Chabad House's patio becomes a massive Sukkah.
To assist in the Tishrei activities, and bring the spirit of the Yom Tov to the backpackers, Chabad of Cusco brings Bochurim from 770. The Bochurim head out to the streets, meet the backpackers, and warm up the Jewish atmosphere in advance of Tishrei. "Their Shofar blasts are heard all over Cusco", says Rabbi Ofer.
"We provide each visitor with the Yiddishkeit he wants, and then some" says Rabbi Ofer with a smile. "There are many religious backpackers here as well, and they obviously enjoy the Jewish atmosphere they are accustomed to. Our visitors come from all backgrounds and levels of observance, and they are able to join for Davening, perform the custom of Kapparos, shake the Lulav and Esrog, each according to his level of observance".
"This year a young backpacker walked in just as I was waving the chicken over my daughter Racheli's head. He was very moved by the scene, which reminded him of his grandfather who would perform the custom in his backyard every year. We were of course very happy to assist him in performing Kapparos with a Peruvian rooster. For me, the most important thing is bringing the 'fifth son' into the Chabad House. There are many backpackers that resolve in advance that they will not enter the Chabad House. We operate an excellent restaurant that serves Israeli food on such a level that only the most stubborn among them are able to resist…
Traditional foods such as Hummus, Pita, Iraqi Kubeh and Yemenite Jachnun are some of the tools the Chabad House uses to attract those 'fifth sons'.
"Ater they come in and eat the traditional foods they feel at home, and their hearts open. Then we are able to talk to them and inspire them, giving them – directly or indirectly – what the Rebbe wants us to give them".
Rabbi Ofer, a graduate of the Technion University of Haifa, and Yael, who was raised in Herzeliya are fascinating and surprising personalities, who break many of the stereotypes some of the backpackers enter with. "Just walking in here and meeting a Frum couple that can speak to them in their language and on their level breaks down a lot of barriers for the backpackers", says Yael. "The girls here become my friends and find an attentive ear for all their needs, from travelling recommendations to personal difficulties. They enjoy playing with our children that remind them of home. I keep in touch with many of our guests even after they return to Israel. The main difficulty over Yom Tov for me as a Shlucha is balancing between attending to the needs of hundreds of backpackers as well as those of our children, who also need a full time mother. Baruch Hashem the Rebbe helps and guides us, and we are having success both with our children and guests".
This year the Shluchim mark 10 years in Cusco, and are planning a 10 year reunion event in Israel, to be held during the rainy season in Cusco.