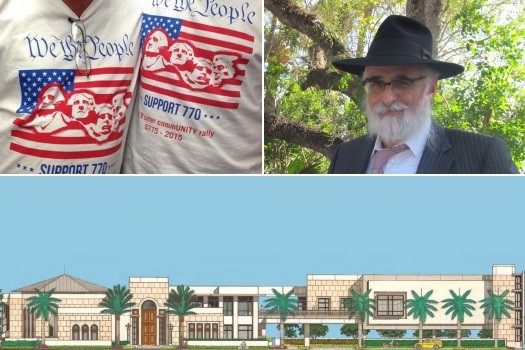 After months of controversy and hours of debate, a large Chabad House at 770 E. Palmetto Park Road in East Boca Raton, FL won final approval Tuesday night from the City Council. After the decision, Rabbi Ruvi New hugged supporters, who wore matching white T-shirts emblazoned with the American flag with the slogan "We the people support 770."
From the Florida Sun-Sentinel:
The unanimous vote to allow the synagogue, which will exceed city height limits, came despite strong opposition from nearby residents and businesses. They feared the Chabad of East Boca, at 770 E. Palmetto Park Road, only blocks from city hall, would increase traffic and noise, and poorly match surrounding properties.
"It was a good compromise," City Traffic Engineer Douglas Hess, said of the plan. "We were comfortable with it.
The $8-million, 18,000-square-foot project includes a sanctuary that seats 241, a 6,000-square-foot museum, sculpture garden, gift shop and basement parking area. In May, the City Council allowed the building to exceed by 20 feet the city's maximum height of 30 feet.