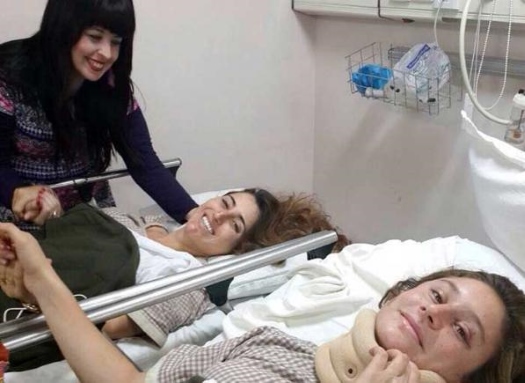 Rebbetzin Chani Lifshitz visits injured Israelis after a bus overturned on a scenic road, where 11 died and over 50 were injured. Photo: Lubavitch.com.
Chabad emissaries to the Nepalese capital of Kathmandu, Rabbi Chezki and Chana Lifschitz, received a surprise telephone call from Israel on Saturday night after Shabbat, from none other than the Israeli Ashkenazic Chief Rabbi David Lau.
Rabbi Lau expressed his gratitude to the couple for their selfless work in helping the Israeli victims of two recent tragedies, an avalanche two weeks ago that killed four Israelis and wounded several others, and a bus that crashed in falling off a cliff in which two Israelis were killed and others wounded last Friday.
The chief rabbi told Rabbi Lifschitz that he decided to award him with a special certificate of honor from the Chief Rabbinate for his actions to locate and get treatment for wounded Israelis and Jews, and keep their families in Israel updated about the tragic events.
In the stirring phone call, Rabbi Lau said "all of the nation of Israel looks at you and your wife and sees a couple that are ambassadors of the honor of the Jewish nation, a Jewish couple that decided to embrace in all of their lifestyle the concept of 'all Israelites are responsible for one another.'"