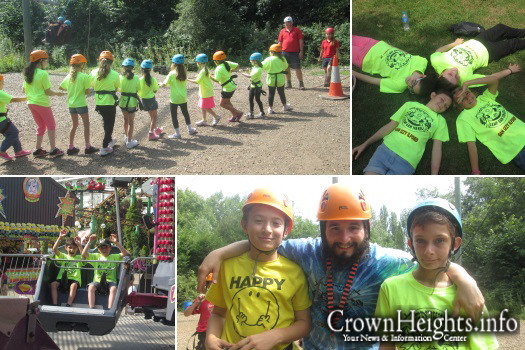 185 Jewish children joined together to enjoy a fun-filled and action-packed 3 weeks full of trips and activities at Chabad of Essex Camp Gan Izzy in northeast London, directed by Rabbi Odom Brandman.
The children, ages 2-15, were split in to three divisions: Kidde camp, Juniors and Teens. They all enjoyed a fun-filled two weeks at Chabad's Camp Gan Izzy.
This year, the camp almost doubled its numbers compared to the previous years, but just half the campers were signed up when the trips were booked and supplies bought. This brought on a whole new challenge – to keep up with the demand and be able to care for so many children.
The children had such a Fantastic time, each day bringing in something new and exciting in a happy, safe and friendly environment, that the children were going home and telling their friends about it – many of whom then signed up too.
"This is the first time I sent my children to Chabad and the love that they got is so different from the other camps I have sent to previously. The staff is so loving, the kids would come home on such a high and so egger to attend another day – we will be back next year!" said one parent.
This year's camp theme was called In Construction. Exciting line ups with cheers and catchy camp songs got all the kids into the camp spirit every morning, and kept them on the go all day.
The head counsellor was Blumi Keselman, teen director was Tzippe Friedrich and assistant director was Rivky Keselman.
"Our amazingly dedicated volunteer staff made sure that every child had a great time, and participated in all the activities. Camp is all about being there because you want to be there, and you want to have a good time and learn things in a fun way," said Rabbi Brandman.
Trips included Bowling, Gilwell Park and soft play, while indoor activities included cooking, baking, painting, sports with a professional coach and exciting games. A highlight of the two weeks was the Grand trip to Adventure Island in Southend, UK.
The Camp was directed by Rabbi Odom Brandman of the Chabad Jewish Community Centre in Buckhurst Hill, Essex, UK, who is involved throughout the year with various local youth projects and programs.