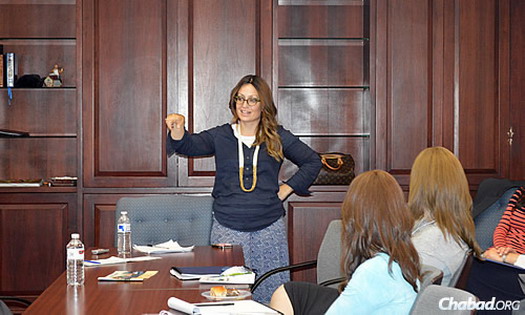 Mother and blogger Sheva Givre leads a session on what parents want from Jewish organizations like the Friendship Circle at the international conference, this year held in Livingston, N.J.
What can you do with a plain white sock, some cotton swabs, a swath of bubble wrap and a box of raisins? How can you make volunteering opportunities more meaningful for teenagers? What do parents of children with special needs require from an organization that provides programming for their youngsters?
Those were just some of the questions raised last week during a two-day international conference for directors and staff who run the Friendship Circle, a Chabad-Lubavitch network of 87 independently operated programming organizations worldwide for children and teens with special needs and their families. This year's event, attended by 65 people, was held at the Friendship Circle in Livingston, N.J.
Among the dozens of participants from across the country who attended the conference were Chanie and Naftoli Minkowitz. The parents of an 18-month-old son, they are planning to move next year to Sharon, Mass., to energize an existing Friendship Circle there, where Chanie Minkowitz had worked before she got married.
According to Minkowitz, a benefit of attending is the ability to "get in touch with Shluchim [emissaries] that have a Friendship Circle, and see what programs they are doing and what is successful."
"You gain the energy, passion and logistics to do it properly," she adds.
Bentzion Groner, executive director of Friendship Circle International, says "when we come together as a group and unite and share our ideas, it creates a powerful vision of what we want our Friendship Circle to look like, what we want our communities to look like, and how we want our participants to grow and live a more meaningful life."
Topics at this year's conference included discussions on optimizing computer software, efficient fundraising practices, and how to engage and retain donors and volunteers.
Attendees also come to hear words of advice and strength from Bassie Shemtov, who along with her husband, Rabbi Levi Shemtov, created the first Friendship Circle in West Bloomfield, Mich., in 1994. Neither had any idea that the program would ever go beyond the state's borders.
"There was no big plan, no big thinking," explains Bassie Shemtov. "We really just put one foot in front of the other" as shluchim of the Rebbe—Rabbi Menachem M. Schneerson, of righteous memory. That it's grown into what you see now, she continues, "is exciting, inspiring and fun to be part of. It's the Rebbe's army, and the Rebbe is leading it. I don't look at it as something I did."
If there is one area that best illuminates how far the Friendship Circle has grown, it's been the creation of the Friendship Circle International office. In addition to offering online training classes for staffers—and printed materials like customizable fliers, calendars and more—it has also developed a number of activity kits for volunteers to use when working with children with special needs, including the aforementioned cotton swab, sock and raisin activity pack. (The pack comes with a mini booklet and suggestions of things to make, but the children and volunteers can come up with their own creative ideas on what to do with it all.)
One thing that hasn't changed over the years is the Friendship Circle's initial concept of teenage volunteers.
'Everyone Leaves Invigorated'
That may explain why many at the conference were drawn to a discussion about the role of teens in the Friendship Circle, led by Devora Krasnianski, an educational consultant who also runs Chabad's Early Childhood Education Network. During her talk, participants discussed a wide range of topics—from the benefits of weekend retreats for the volunteers to how to make the program more interactive for teens.
The main point of the session, however, was to create a structure for teenagers to engage in making a real difference for the special-needs community during the years they are involved and then beyond, when they are adults in leadership positions.
Another motivating speaker was blogger Sheva Givre, whose daughter Rozie has Down syndrome. Calling the Friendship Circle top-notch, she relayed concerns brought to her by other parents. Givre advised the group to "see children for who they are" and to use appropriate wording when referring to a child with special needs, as well as "not to refer to people by their diagnosis."
At the end of the day, the conference seemed to instill in participants a renewed sense of mission and purpose.
"Networking with other Friendship Circles—and sharing experiences and best practices—is invaluable," says Rabbi Zalman Grossbaum, who runs the Friendship Circle in Livingston with his wife, Toba.
The Grossbaums organized the first few conferences; more recently, however, it has been held in other cities. "Although each Friendship Circle is run independently, we utilize multiple networking solutions to constantly stay in touch and share ideas. The conference brings all of those energies together, and everyone leaves invigorated."