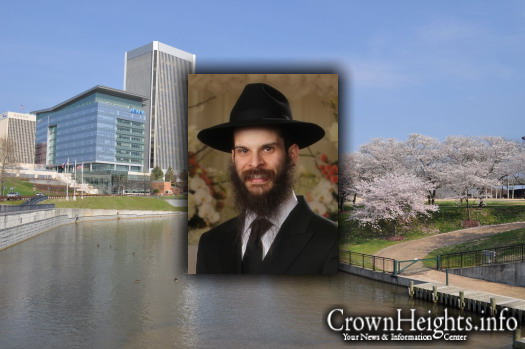 Rabbi Matisyahu and Chana Rivkah Friedman, along with their young daughter, will be moving to Richmond, Virginia to join the activities of Rabbi Yossel and Mrs. Nechomi Kranz, directors of Chabad-Lubavitch of Virginia.
The couple's focus will be to expand the reach of Chabad activities within Jewish community of 12,150 people living in the Richmond Metropolitan Area.
"We will target the up-and-coming young professionals and young families, primarily rooted in the downtown core.  We will also be establishing our presence on the university campuses, as well as providing services to the elderly, and incarcerated," Rabbi Friedman told CrownHeights.info.
"Chabad will now be represented in all aspects of the Jewish community, and catering to all Jews regardless of their commitment level," he said.
To assist the young Shluchim with the immense financial burden of starting a new Chabad Center, please click here, and add "New Shliach" in the dedication box.
CrownHeights.info wishes the young couple much success on their new Shlichus!