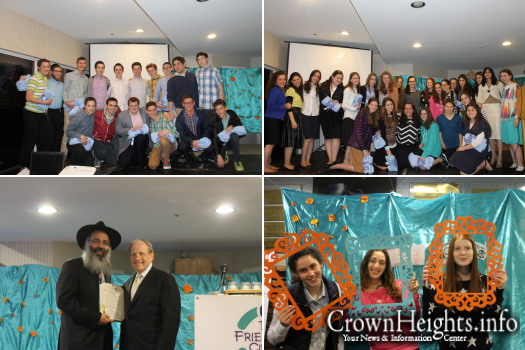 On Wednesday, May 28, The Friendship Circle of the Five Towns, an organization that pairs volunteers in the community with children with special needs, celebrated an 'evening of Friendship' to honor and recognize its members.
The event took place at The Jean Fishchman Chabad Center, with Master of Ceremonies Mr. Rob Kurtz beginning the evening.
Rabbi Wolowik shared a few words, and then they were privileged to hear from 9-year-old Shoshana Simon about her experience with the Friendship Circle.  She compared the volunteers to Har Sinai – which was humble.
Mr. Benjamin Weinstock represented the City Village of Cedarhurst, and presented The Friendship Circle with an Award.
Rabbi Matisyahu Friedman addressed the audience on behalf of the families.  He expressed his appreciation for all the Friendship Circle volunteers have done for the community.
The highlight of the evening for many was the award ceremony, when all the volunteers were called up on stage and presented with an award, as well as a beautiful towel embroidered with the Friendship Circle Logo.  Volunteers that are graduating were given a handy armband phone case.
Guest speaker Mrs. Chava Willig–Levy enthralled the crowd with her personal journey. She's a writer, editor and lecturer who zips around in a motorized wheelchair to shatter stereotypes about people with disabilities, enabling people to view disability with pride, not prejudice.
"If it weren't for the most phenomenal organization The Friendship Circle, I wouldn't be standing here tonight or worst yet, Effy, my dearest little friend, would never have been a part of my life. And I can tell you this much, my life has never been the same since I've met him," said Sarah Eckstein, a 10th grade volunteer.
"When you join the Friendship Circle, you're part of a really large community and you feel that you're not alone, and you feel supported and loved," said Mrs. H. "I think it's all about making the world a kinder place, that's more accepting of diversity, and it happens one person at a time."
To help support the Friendship Circle, visit www.fc5towns.com/fcdonate. For more information, to join, volunteer or get involved call 516-295-2478 *13 or visit www.fc5towns.com.