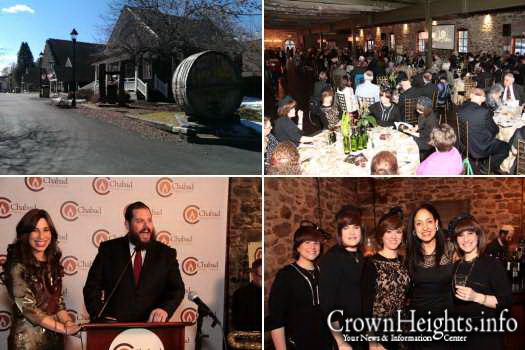 More than 210 friends came to celebrate and support Chabad of Orange County, NY at the "Decade of Dedication Benefit Gala," led by Shluchim Rabbi Pesach and Chana Burston.  The purpose of the event, Chabad's first Gala, was to celebrate the community milestone of Chabad's first decade of service in Orange County, pay tribute to the supporters who make it happen, and say L'chaim to future decades!
The Gala was held at the Grand Monarque Hall at the Brotherhood Winery – America's oldest winery – in Washingtonville, New York, on Wednesday, March 26.
Set in the magnificent backdrop of stone and rich wood, this entertaining, elegant and meaningful celebration was beautifully decorated and included delectable cuisine, wine tasting and pairings with fine kosher wines, live Jewish jazz by the Recu jazz ensemble, chinese auction with fantastic prizes and entertaining guest speaker David Nesenoff.
The program began with cocktail hour, as guests enjoyed hors d'oeuvres as well as the opportunity to snap photos on the "red carpet," view the Auction prizes, and enjoy fine kosher wines and sangrias.  A slide presentation of Chabad activities of the past decade was displayed in the background.
The program was emceed by Gala Co-Chair Jim Rogers. After Tehilim led by Dr. Zev Zelenko, and a prayer led by Chabad President Gil Goetz, the crowd was addressed by Rabbi Pesach and Chana Burston.
In his remarks, Burston recounted how Chabad strives to make all people feel at home, "Mi Chabad casa, su Chabad casa!"  Burston also recalled their starting out without knowing anyone in Orange County.  "Chabad's modus-operandi is unique," Burston explained.  "Many synagogues start with a community and look for a rabbi. Chabad started with a rabbi and then looked to establish a community." He then pointed out how "yidle by yidle" Chabad grew into a full-service, flourishing, dynamic and vibrant center for Jewish life, attracting people from all corners of the county, bursting out the seams of the current center and with plans for a 12,000 s.f. center on their 7-acre property in Monroe!
Following a dynamic message from Shlucha Chana Burston, 15 year old Sabina Pashkin, spoke on "what a decade with Chabad means to me."  She fondly recalled meeting the Burstons in the park when she was 5 years old, how she was "practically raised by Chabad" and is still, a decade later, active in Chabad.
After dinner, the Shluchim thanked their partners who helped make it all possible.  The Shluchim explained, that "Chabad is a partnership organization," and "Though Chabad Worldwide is bound together by a mutual vision, funding for Chabad of Orange County is made possible through private partners and donors who share Chabad's goals."
Several honorees were awarded for their efforts.
The honorees were:  Dr. Seth & Nadine Pulver – Lamplighter Award, Mr. Fred Soward, CEO, Allstate Interiors – Humanitarian Tikun Olam Award, Mr. & Mrs. Henry & Samira Galler – Friendship Award, Mr. & Mrs. Howard & Ricci Blumenau –  Chesed Award.  The shluchim's parents were also recognized and presented with flowers.
In her remarks after accepting the award, Chabad Honoree Nadine Pulver poignantly pointed out how Chabad is often judged.  "Chabad does not judge the community, they teach us and love us at whatever level we are at. Yet, many people are quick to judge Chabad."
Following a message by guest speaker David Nesenoff and dessert, the winners of the Chinese Auction were drawn.
Participants were gifted with a box of Matzah as well as a copy of the book Chicken Soup to Warm the Neshama, which was authored by the Burstons.