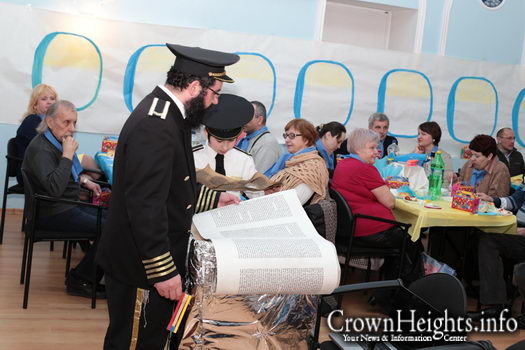 With all the uncertainty on the ground in Ukraine, over one hundred men, woman and children of the Jewish community in Sumy gathered in the city's main synagogue for 'Purim in the Air.'
As the crowd entered the Shul building they were greeted by Security (hired especially to make everyone feel safe). Each passenger was handed a 'Passport' explaining the four Mitzvos of Purim and asked to turn off their cell phones and empty their pockets – into two Pushkas – thus fulfilling the Mitzvah of 'Matonos L'evyonim' as they walked through the makeshift 'metal detector'.
At the 'gate,' the 'crew' of Yaldei Hashluchim helped everyone wash for the Seuda, dress up with a blue tie and find their seats in the Shul decorated to look like an airplane. On each seat there was a 'suitcase' Mishloach Monos, which everyone passed around to fulfill the Mitzva.
After everyone was seated, the captain – Rabbi Yechiel Shlomo Levitansky – announced the safety instructions before takeoff: All passengers should try their best to remain seated and quiet for 'takeoff' – Megilla reading. Rabbi Levitansky accelerated through the Megilla at the speed of sound, but when the signal was given, passengers united by stamping their feet, causing plenty of 'turbulence.'
The in-flight entertainment included a fantastically hysterical video on the story of Purim, starring the 'Or Avner Chabad Preschool.' A live comedy show and interactive games were also a big hit. Dinner was prepared by Mrs. Rochi Levitansky and served in airplane style, as the 'duty free cart' went around the room offering L'chaim to all.
At the end of the evening, all Passports were collected and entered into a raffle for a bottle of Kosher champagne. The evening ended with singing and dancing, followed by a farbrengen late into the night.