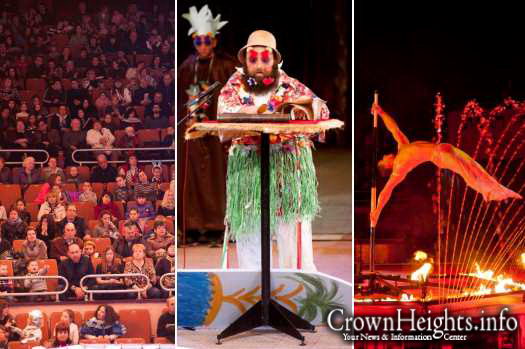 Despite Purim falling out on March 16th – the date of the controversial referendum of secession in Crimea, the Jews in Kharkov came to celebrate Purim in the city's Circus.
After weeks of turbulence and demonstrations in Kharkov, the tension reached its peak on Sunday as Ukraine anxiously awaited the results of the referendum.
But they came. Not in the tens, nor hundreds …but two thousand proud Jews who wanted to put aside their fears and worries and to join together in pride and celebration.
And celebrate they did!
With the acrobats , monkeys and bears performing to Jewish songs , the Megilla being read in Hawaiian style and every participant receiving Mishloach Monos – the power of the Jewish spirit despite all odds was clear to all.
The head of religion in the region of Kharkov, was moved to tears as she addressed the euphoric crowd: "We have to learn from the power of strength of the Jewish people to stand together even in hard times."
Rabbi Moishe Moskovitz, Chief Rabbi of Kharkov, said a prayer for safety and peace in Kharkov and the whole Ukraine. He encouraged the community that the best way to help the instability in the country is by adding light – good deeds – and caring for each other. Visibly impressed at the large turnout, the Rabbi said, "your being here today, is a sign that the Jewish people are alive and well and our heritage will keep us going no matter where we are and no matter what is happening around us."
Hundreds of men and boys put on Tefillin at the entrance – many for the first time ever – and over 1,000 Shabbos candles were given out to women and girls.
The Or Avner Chabad day school and kindergarten made a Purim spiel with song and dance.
Alexander Kaganovsky, the president of the synagogue, wished everyone that the spirit of Purim should continue throughout the year. Rabbi Levi Raices, in true Kharkov tradition, came out with an original Hawaiian costume together with the 'support' of the Yeshiva Ktana 'palm trees'. Cantor Yitzchak Halfon, together with his sons, performed an original Purim song.
The circus performance was on water and spectacular fountains. The show kept the crowd amazed. It was truly a Purim to remember!