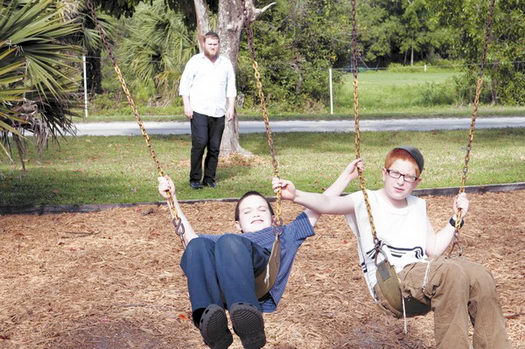 Yisroel Taub (left), 10, from Pittsburgh, and Menacham Krinsky, 12, from Hillsborough, N.J., have fun at Tzeirei Hashluchim, a Jewish camp held in December at the new South Florida Jewish Retreat Center in Lake Worth.
According to Rabbi Yosef Y. Biston, the spiritual leader of the Chabad of Parkland, the regional headquarters for Chabad of North Broward and South Palm Beach, "The Chabad philosophy does not measure success in physical terms — with figures, tables, charts, graphs and numbers. We don't keep a list — every mitzvah is a success in itself. We're not counting. We're doing."
The latest mitzvah that Biston is doing, along with his business partner, Rabbi Sholom D. Lipskar, of The Shul of Bal Harbour in Miami, is providing the Jewish community access to a kosher South Florida Jewish Retreat Center in Lake Worth on the grounds of Gold Coast Camp.
"I've been on the lookout for a campsite in this area for over 10 years," Biston said. "Our biggest activity is six-week kosher overnight summer camps, Camp Gan Israel, for Jewish boys and girls of all religious affiliations. We've been holding them in Central Florida for many years, but the cost to bring in kosher food there is really high. Here, we are right on the kosher distributors' delivery routes. We will be able to provide the kids everything they need at a much lower cost."
Biston said that "Hashem" played a major role in the purchase of the center.
"When a colleague of mine saw this place listed, it seemed perfect for our needs," Biston said. "Originally, we didn't have all the money the day of closing, but, through a donor who wishes to remain anonymous, 'Hashem' provided all the money we needed to pay cash and not carry a mortgage. It's a great deal."
Rabbi Yosef Biston's son, Rabbi Chili Biston, is the director of the retreat center and the head of day-to-day operations.
"We've done a lot of work fixing up the facilities since we purchased it in June," Chili Biston said. "It's a ten-acre property, with eight comfortable bunk houses, ample recreational fields, an Olympic-size heated pool, a firepit, a three-level ropes course and a paintball area. We will be building a new baseball field by the summer and expanding the kitchen facilities. There's nothing like our center in this part of the country."
While the new owners have allowed non-Jewish organizations which had contracts with the previous owners to use the facilities, the first Jewish group used the site in December (Tzeirei Hashluchim).
Tzeirei Hashluchim is an international camp for children of shluchim (Chabad emissaries of the Rebbe — Rabbi Menachem Mendel Schneerson — that encourage non-observant Jews to adopt Orthodox Jewish observance). Many of the children go to online school because there isn't a Jewish school in their area, but get together at the camp to experience Jewish communal life.
Rabbi Moshe Pinson, the director of Tzeirei Hashluchim for 18 years, says the camp has been much better this year in Lake Worth than at the previous site in Arizona.
"It used to be a tremendous headache," Pinson said. "There was no Internet service and no kosher stores within 200 miles. We were set off in the mountains and the day trips were so far to get to. This has been so much better."
Rabbi Yitzchok Minkowicz, the shaliach in Fort Myers, praised the camp while visiting his son, Peretz Meier Simcha, 11.
"The kids are treated like royalty here," Minkowicz said. "They are really giving them a wonderful Jewish experience."
Chili Biston said he expects the retreat center will be used 70 percent of the time for children's groups and 30 percent of the time for adults. The center is looking to provide programming for seniors, groups that want a retreat environment, or families that want to celebrate holidays or simchas.
Rabbi Aron Lieberman, of the Synagogue of Inverrary Chabad, for example, is hosting a family gathering at the South Florida Jewish Retreat Center this Passover.
Lieberman said, "It's a beautiful facility for my large family to stay together and get to know each other better. It's a secluded spot with enough to do to keep the children busy in fun activities in a wholesome way, while keeping everybody safe."