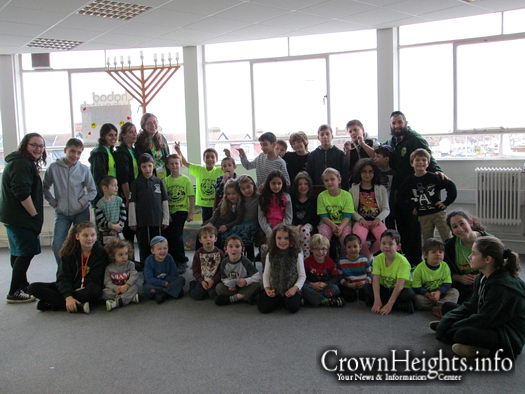 Over 30 children from around Essex, UK, boys and girls aged between 3 and 11 enjoyed an action packed fun filled week of trips and activities at Chabad Gan Izzy Winter Day Camp.
The Camp was held at the Gants Hill Chabad Centre and was directed by Rabbi Odom and Henny Brandman of Chabad Buckhurst Hill, ably assisted by Rivky Keselman who doubled as Assistant Director and Head Counsellor.
Another extremely successful day camp has come to a close with parents asking why camp can't be for longer. Each day brought new activities and crafts giving children a chance to enjoy their Winter break with friends in a happy, friendly and warm Jewish environment.
Camp began each morning with an exciting line up complete with cheers and catchy camp songs which always got all the kids into the camp spirit and kept them going throughout the day.
Rabbi Brandman said "Our amazingly dedicated staff worked so hard to prepare a great program and then made sure that every child had a great time and participated in all the activities. Winter Camp is all about the quality more than the quantity, the school break is short so this really gives us a challenge to give the kids a meaningful and memorable week jammed pack with fun".
Trips out included Snow Tubing, Bowling and Soft play while indoor activities included baking, crafts, hunts, auctions and sports. A highlight was a trip to the new games room at the Buckhurst Hill Chabad Centre where the children could play table tennis, pool, foosball and try their hands at the drum kit.
Led by Rivky Keselman, the other Counsellors were Esti Rubin, Tzipora Rader and Mushka Muller who were aided by Junior Counsellors and long term CGI Ilford enthusiasts Rhianna Bongart, Jenifer Harding and Cydney Harding.
An amazing 6 days was had by all. Chabad Camps have been running in Ilford for 42 years now, making it one of the first day camps set up after the Rebbe called for the running of day camps. Rabbi Aryeh Sufrin MBE, shliach in Ilford for over 30 years said "one of the most amazing things, as I watch our next generation of young dedicated shluchim running our camps, is to see children whose parents were in camp coming through our doors".
A picture slideshow is currently being prepared and will shortly be on Youtube to complement the videos made from the last few summer and winter camps. Rabbi Brandman said "we are so lucky to have dedicated staff who live camp all year round and keep the children engaged through our marketing, regular Chabad House programs and we have a whole community of parents and children who just can't wait for the next camp"!