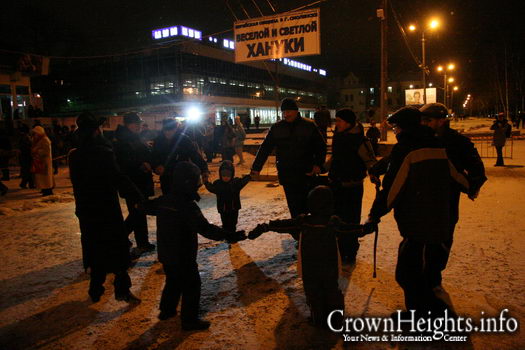 The first night of Chanuka in Smolensk, Russia was cold and snowy. That didn't stop tens of residents from proudly attending a public Menorah lighting in the center of the city.
The Jewish Community President, Mr. Zinovi Agranat, opened the ceremony. All watched Rabbi Levi Mondshine, Shliach and Chief Rabbi of Smolensk, light the first candle. Lively music, fireworks and delicious doughnuts added to the festivities.
There was wide regional media coverage of the event.
Jewish students attending Smolensk's universities had their own Chanukah program, where, in addition to learning all about Chanukah and lighting the Menorah together, a sushi master came and showed them how to make their own kosher sushi rolls!
The children of the Smolensk's Jewish Day School enjoyed games and crafts connected to Chanukah, especially the doughnut decorating – with mountains of glaze and colored sprinkles. Delicious!