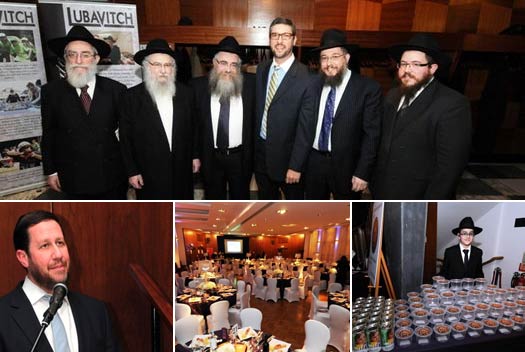 Friends of Lubavitch of Edgware, UK celebrated their 25th anniversary at St. Johns Wood Synagogue last Monday evening. More than 200 people came together to pay tribute to Rabbi Levi Sudak and all his staff for the sterling work they have done in building a vibrant community in Edgware. Rabbi Sudak encouraged the crowd to become partners in the next twenty five years, Saying "No one person can change the world alone, but together, a few of us might be able to."

The crowd was inspired by guest speaker Kivi Bernhard, son of Rabbi Nachman Bernhard of South Africa. Kivi is the author of the award winning Business/Life approach called Leopardology. He discussed the importance of a Jew, even today, to connect to his Judaism and especially the observance of Shabbos. He cited the Kabalistic parallel between Shabbos and the six days of creation, and the seventh transcendent dimension that permeates the six dimensions of physical existence. When one arrives at the Seventh Dimension – or the 'space that is within', one can only reach that on that dimension by observing Shabbos.
Rabbi Yitzchok Schochet said: "In the course of fundraising, I've come to learn that people essentially give for either one of two reasons: They either love the cause, or they love the individual…Tonight, I think it is safe to say, everyone sitting here in this room loves both the cause – Lubavitch – and the individuals – Rabbi Levi and Rebbetzin Feiga Sudak.