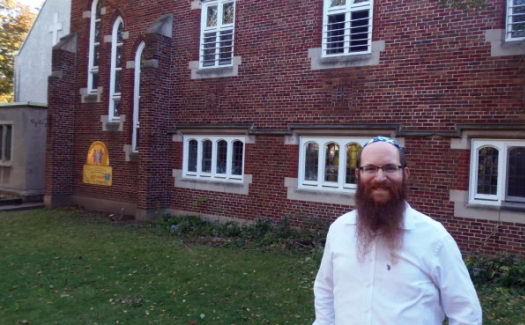 Rabbi Yisroel Bernath in front of the newly purchased building.
This past Simchas Torah, pedestrians on Monkland Avenue in Montreal witnessed a unique parade of Sefer Torahs as Chabad of NDG and Loyola campus moved into their new location, a former Korean church, where the festivities concluded with the traditional Simchas Torah ceremonies.
Ironically, it was five years to the day since Rabbi Yisroel Bernath had opened the doors of the first Chabad of NDG venue which, at the time, was just around the corner. The popular Chabad House, a hangout and Shul for young professionals and families in the Monkland area, was located in a tiny office space and they quickly outgrew the location and moved into a larger storefront. Twice more they ran out of space, moving into a storefront, and then two apartments which were remodelled for Synagogue, office, kitchen, and library use.
The new location is ten times the size of the last one, but the search for a larger venue started a while back.
"Two and half years ago, Charlotte Silkoff of blessed memory sent letters to all the churches in town, asking if they were willing to sell," said Rabbi Bernath, "we had already outgrown our third Chabad House."
Nothing was available. In NDG, particularly in the Monkland area, it is very difficult to find space for sale.
"One day just before last Purim I was walking home from Concordia after pizza and Parsha, and I walked into a store on Monkland owned by a Jewish woman, Cheryl Beller-Kenner," said Rabbi Bernath, "she told me that the church around the corner was for sale."
The location, in the heart of NDG and close to Loyola campus, was perfect. Bernath quickly got ahold of the agent, and started the process of buying it, which was complicated because they were only willing to sell it with certain provisions. For example, they really wanted the church to remain a community-based place which is why they were very excited about us buying it. Still, it took four months of constant meetings and negotiations until Bernath had an accepted offer.
"We weren't sure if we could gather the funds, so our first idea was to partner up with a developer to develop half of it and we would take half of it," said Rabbi Bernath, "but it wasn't possible for various reasons."
Finally, a group of developers led by David Kakon bought the land and gave Chabad of NDG 18 months to purchase half of the property. "Until then we can have it rent-free," added Bernath, "we only have to pay for utilities."
The Chabad House includes a Shul and social hall, kitchen which is in the process of being Koshered, lounge and library, large backyard with climbing structures, several offices, stage, and children's room.
"There's also a garderie that's been renting the upstairs for 35 years, and we're going to keep it there in the spirit of the community," said Bernath, "but eventually they are planning on leaving and we will G-d willing open our own garderie."
Before purchasing the church, Rabbi Bernath consulted with Rabbonim about the permissibility of that aspect of the sale, and the transaction was permitted.
Finally, after months of negotiations, a final agreement was reached.
"We signed three hours before Rosh HaShana and got the keys right after Yom Kippur," said Bernath. "We couldn't open it in time for the first days of Sukkos but we decided to push, get everything set up, and open on Simchas Torah. Then we thought, if we're already making Simchas Torah let's make a parade. And if we're making a parade, let's parade with the Torahs in the street and show the community what it's like to move into a new Shul."
During Chol HaMoed member of Chabad of NDG packed up the old venue and started the process of setting up the new location. It also needed painting and cleaning, and Rabbi Bernath is grateful to the many people who volunteered their time, led and coordinated by Eric Klein.
At the same time, Rabbi Bernath got a permit for the parade and a police escort was organized.
"By Hashgacha Protis, all four of our locations opened on Simchas Torah," revealed Rabbi Bernath, "the parade was magic."
It opened with a final Mincha service in the street outside of the old Chabad House. Then, led by fire jugglers, the community danced through the streets as they moved the three Sefer Torahs to the new Chabad House. Joining in the parade were several celebrities and politicians such as Russell Copeman, who was the tenth man in the Minchah Minyan.
A massive Kiddush was waiting at the new Chabad House, and the room was set up for the separate dancing. After a large Maariv Minyan and a festive buffet meal, the dancing started. It lasted until the early hours of the morning, with over 400 in attendance. During the dancing, several new weekly Torah were introduced.
There is still much work to be done in the Chabad House. Painting, fixing, and cleaning. But most importantly, Rabbi Bernath needs to purchase the building.
"The purchase price of the building is going to be $700,000 which is not a lot of money compared to what it's worth, plus it's going to cost us about $300,000 to renovate it," said Bernath. "So we're looking for a million dollars which we have 18 months to raise."
At the moment, nothing has been raised and there are many Kibbudim available. "You can dedicate a Mezuzah, or become a founder on our founder's wall," said Bernath. "You can even put your name on the building, or on the organization! Everything is wide open."
Anyone interested in sponsoring the building should contact Rabbi Bernath.
The new space has brought the community together. "The place presents a great opportunity for the community to grow and expand our services," said David Lapkovsky. "It's perfect for throwing various types of parties and events."
"The new Chabad NDG multidisciplinary centre is built on the principles of spirituality, creativity, and entrepreneurialism," added Yoni Waysman, director of Chabad of NDG. "The centre is open to the greater community to assist and collaborate in all aspects of life ranging from prayer, study, and business."