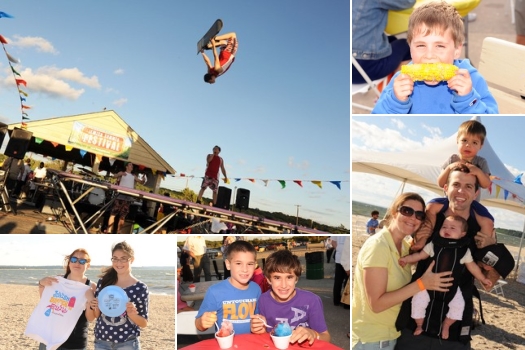 From what folks have said about this year's Jewish Summer Festival at West Meadow Beach in Stony Brook, Long Island, it was a breeze. But that might have more to do with the weather than with the actual ease of planning such an event.
It was especially windy, and with the waves lapping at the shore, the occasional wind-surfer riding the tides and the errant napkin fluttering about, breezy it was.
That word could also describe the tone of this community barbecue and the comfort level the guests were made to feel. The fourth annual festival, a project of Chabad at Stony Brook, brought in about 500 people — not bad for a mid-summer's night.
Highlights included face-painting and a moon bounce for the younger set. But the big draws were some eye-catching entertainment by Ken Kovach and the Skyriders, a high-flying trampoline show that caused some gusts of its own; and the breathy sounds of Lazer Lloyd and band, here on tour from Israel, which played Jewish-themed folk, blues and rock music.
"We were expecting maybe 300, and so many more showed up," said Rabbi Motti Grossbaum, event organizer and director of Living Legacy, the community outreach and programming arm of Chabad at Stony Brook. "We got to connect with people of all ages — families, singles, teens and grandparents.
"We couldn't have done it, of course, without the help of our corporate sponsors," he added.
Sara Fingerman attended with her sister and her 2½-month-old niece. "It was her first beach party," said Fingerman, an arts-and-entertainment writer from Nesconset.
The kosher delicacies on tap that evening were hot dogs, hamburgers, fresh corn, knishes (authentic from Brooklyn), cotton candy and snow cones.
Fingerman said that "everything Chabad puts on, they put on with their whole hearts. It's not just for Jews — everybody participates in the summer festival. Everybody was engaged; everybody had a good time."
Natalie Weinstein, an interior designer from St. James, brought her two grandchildren with her. "They had a great time. It was a lovely night, just a wonderful evening."
She said her 14-year-old granddaughter and 10-year-old grandson, visiting from California, enjoyed it so much that they want to make sure to come again next year.
Of Rabbi Grossbaum and his wife, Chaya, and their children, Weinstein said: "They're a very warm and loving family, and when I am with them, I feel very much at home."
Amy Richter also brought children — her two kids, ages 5 and 7. "I wanted to support Chabad, see familiar Jewish faces and show my kids that they can enjoy Jewish events —that it's not just about services. We had been to one prior Chabad event, a Purim celebration, and felt that the kids responded well to the laid-back feel and focus on fun."
And the sunset was said to have been spectacular.
This was the third time that Steve Zalta enjoyed the festival.
"We go as a family to show our support for Chabad and to be part of the Jewish community here," he said. "They do so much work in our area to get the community together, and it's important for us to show our support. There were a lot of people, and it was good to see."
Zalta, a furniture salesman in Holbrook, added that "Chabad is so outwardly inviting and welcoming that we felt like family right away."
A traveling salesman, he goes back and forth to his territory in Brooklyn, a 120- to 130-mile commute every day. He added that he tries to help out when he can. Once, he very carefully transported a Torah from Long Island to Brooklyn's Crown Heights neighborhood for repair.
In fact, Zalta used to spend the Jewish high holidays in Brooklyn, where he's originally from, but for the past few years he's gone to Chabad. He's planning to attend Chabad services again this year.
"The festival was a nice way to close the summer and get ready for the high holiday season," Grossbaum said. "It was a Jewish cultural event that set the stage for more spiritual times ahead."