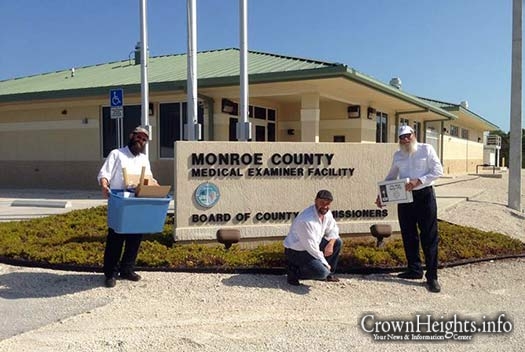 A Shliach and the Chevra Kadisha of Florida joined forces and held what is believed to be the first ever Taharah performed on a mes mitzvah in the Florida Keys.
Rabbi Yaakov Zucker director of Chabad of Key West along with Rabbi Leibel Miller of The Chevra Kadisha of Florida, joined together in the Florida Keys to take care of Mes Mitzvah.
In what was certainly the first Tahara [Ritual Preparation] ever done in Marathon Key, a group composed of both local volunteers and Chevra Kadisha members helped give this last act of kindness at the Monroe Medical Examiner's office of the Keys.
The niftar was a member of the Chabad of the Keys community and did not leave any living relatives behind or the financial means to cover the costs involved. Together, the Chevra Kadisha, the Shliach and the volunteers were able to give to proper respect and honor to the decedent.