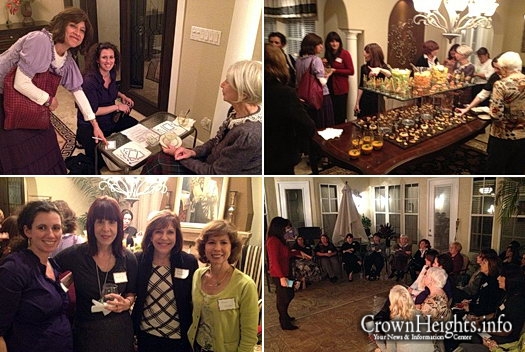 Mrs. Nechamie Minkowicz noted Shlucha, Educator, Founder of the famous Camp Chayalot and Founder and Principal of Maimonides Hebrew Day School, and is also the director of Chabad Lubavitch of Southwest Florida, has created and developed a new exciting organization, The Jewish Women's Happiness Exchange, that brings woman together in a first class setting of high level speakers with delicious gourmet food that is hand made by a company that Nechamie founded Gourmet Bites that produces gourmet and elegant finger food for upscale events.
The Jewish Women's Happiness Exchange hosted their event at the founder Nechamie Minkowicz home with a Great Speaker Shlucha Mrs. Rivka Caroline of Key Biscayne, FL who spoke about the five Love Languages and helped the Woman identify their unique Love Language when the talk was over several woman said they had to leave right away to go spend quality time with their husband as that was their Love language.
The event was a great success there were many woman from all parts of Southwest Florida that attended as well as Local Shluchus Mrs. Rivky Labkowski from Chabad of Cape Coral as well as Mrs. Luba Greenberg of Chabad of Bonita Springs and Estero.