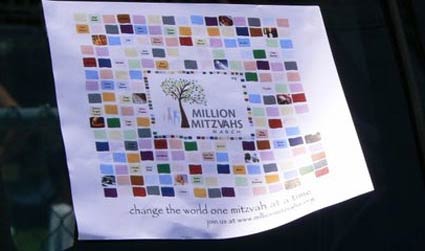 EJ Tansky – Lubavitch.com
SURFSIDE, FL — An unlikely band of boosters helped the Million Mitzvahs campaign reach its goal.
AEPi sorority sisters, students at Hebrew Academy Day School and bar mitzvah guests all took on an extra mitzvah, act of goodness or observance prescribed in the Torah to push the mitzvah counter to one million.

The Million Mitzvahs Campaign, was launched in June 2006 by The Shul, a Chabad center in Surfside, FL, with the idea of making the world a better place and bringing Jewish people together as they worked toward a common goal of 1,000,000 mitzvahs. A worldwide crew of do-gooders registered the mitzvot they chose on the MillionMitzvahs.org site. This week, The Shul announced that the goal has been reached.
Participant Sarah L. Caplin describes herself as friendly by nature, but the Million Mitzvah campaign gave her the guts to broach the subject of Shabbat candles with a neighbor in her beachside apartment. Her neighbor was impressed that her one action would be part of a seven-digit collective. "It's wondrous you can inspire people with a target, a chance to be part of something this big," Caplin said.
Caplin was one of many who tucked Million Mitzvah brochures into her purse for mitzvahs on the go. "I encouraged people who were not in shul, were not religious that this was something positive they could do. It was very unifying."
Article continued (Lubavitch.com)