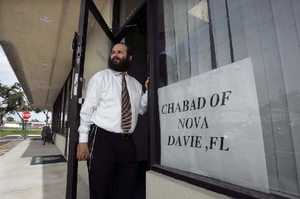 Miami Herald
In the fall of 2005, Rabbi Shmuel Posner tried to open Chabad of Nova outreach center at 8608 Griffin Rd. at Timberlake Plaza. But Cooper City wouldn't permit it, saying places of worship are not allowed in commercial areas.
COOPER CITY, FL — A federal judge ruled Friday that an Orthodox synagogue forced out in 2006 must be allowed to operate in Cooper City shopping areas.

Chabad of Nova, an outreach center now operating in Davie, filed the federal suit last year, saying the city's zoning laws were a form of religious discrimination. But the city has said it has worked hard to accommodate the chabad, including a 2006 change in its zoning laws to allow houses of worship in parks and office parks and give the chabad more relocation options.
On Friday, U.S. District Judge Cecilia M. Altonaga ruled the zoning rules violate federal law and said the outreach center must be allowed to return to Cooper City storefronts.
"This is a huge victory for this chabad because it means they are allowed to return to the business district from which they were illegally thrown out," said Franklin Zemel, the attorney for the chabad, who also brokered a $2 million settlement in a lawsuit between the city of Hollywood and another chabad.
Chabad of Nova opened at 8608 Griffin Rd. in 2005, but Rabbi Shmuel Posner had to leave a year later when Cooper City told him city zoning laws did not permit houses of worship on commercially zoned land. The lawsuit alleged those rules violate a federal law that requires cities to treat religious and nonreligious forms of assembly equally.
The court still needs to determine any financial penalty. Zemel said he didn't know when Chabad of Nova would return to Cooper City or if it would return to the same location.
"A lot of work needs to be done to figure out what the proper remedy is," he said.
But Zemel said the ruling is great news for the chabad.
"There's no question that [Rabbi Posner] wants to be back in Cooper City," he said. "Whether it's that particular space, I don't know."