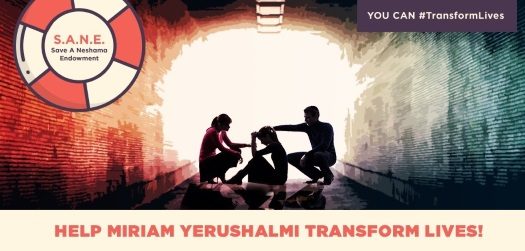 Today, as we mourn the destruction of the Beis Hamikdash, let us join together to strengthen the very fabric of our community. In this interview, Miriam Yerushalmi addresses the critical issues faced by today's Jewish family and discuss solutions for living a healthy, more connected Jewish life.
For thirty, Mrs. Yerushalmi has pioneered social services free of charge to any individual who has found themselves lost, alone or in crisis. Integrating a comprehensive program of medical, psychiatric and alternative health therapies combined with timeless Torah teachings, she has helped countless men and women regain equilibrium—and their lives.
In honor of the 9th of Av, Charidy is running Mrs. Yerushalmi's fundraising campaign to transform even more lives in urgent need. To learn more visit www.charidy.com/sane.
What inspired you to start SANE and work with individuals in crisis?
I grew up in a secular home, but I was lucky enough that my parents sent me to a Jewish school as a child. I loved it. I felt safe, and this may sound a bit floaty, but my soul was literally on fire. I was learning so much about what it meant to be a young Jewish woman in the world. But that all changed when my parents switched me to public school in 11th, because they couldn't afford tuition.
The things I witnessed and experienced—no one should ever have to go through that. I saw how critical it was up to bring more goodness into the world, and I was impassioned to do whatever I could to help people in need.
Tell us about SANE
SANE stands for Save A Neshama Endowment. I started SANE 17 years ago to help people who really had nowhere to go and who could not afford the extreme expense of psychiatric or alternative therapies. It could be a mother abandoned by her husband, a teen at risk, or someone suffering from OCD with no idea where to find help.
We are a small, entirely volunteer operated organization looking to help wherever we can do the most good. All funds raised are dedicated to providing necessary, impactful treatments that will save lives.
What are some of the predominant issues our communities are facing today?
There is a widespread lack of awareness—and even denial—of mental illness. I can't tell you how many people I've met who have gone their whole lives living in pain because they have never sought help or received a professional diagnosis.
And even if they are aware, many do not receive help for financial reasons.
There have been incidences where at-risk teens are not accepted to local schools and due to no alternative solutions are forced to board out of state, away from their families and support network. This often exacerbates the issue. And when families cannot afford to send them away, this teen is sent to public school. As a girl who experienced the challenges of public school firsthand, I've made it my mission to keep all these children in a Jewish school and get them whatever help they need.
What about marriage and family?
So often we get stuck in harmful patterns of behavior. We may know it's wrong, that we shouldn't engage in this or that, but we do it anyway because of the lack of resources to get help. The truth is most (if not all) of us could benefit from a little guidance that can make a huge impact.
One mother was recently left by her husband and is about to be evicted from her home. Can you imagine what it must be like for these kids? To lose a father and their home?
It's not enough to only throw money at a problem, you need to be there. To create support. This is why it's so important to work with these families and get them back on their feet not only financially, but holistically.
How can we make a difference as a community?
In-reach prevention is always essential. More support for our youth and running wellness programs will add ingredients that will increase their success. Our youth are given Baruch HaShem tools for emotional and mental well-being, but more would be better, so that it is insured that they can build healthy, Torah connected homes.
And most of all, we need to supply the tools how to cultivate strong, meaningful relationships. With Hashem, with others, and with ourselves. That's why chassidus is integral to any emotional therapy. -which makes SANE approach a very Torah wholistic based method.
How have you personally been involved in prevention?
By leading classes, training other professionals at Nefesh International, writing articles in Jewish Press, and I've also written many books on relationships and self mastery for children and adults alike. My latest children's book, Reaching New Heights is a four volume series of which two are now available on Amazon.com. Another, Let's Go Camping, draws upon teachings from the Tanya and introduces children to the different aspects of their personality, while getting them excited to use their potential for greater good. My next children's book for adults, Let's Go to Israel, addresses relationships and how to achieve moach shalit al ha-lev. Editions will be available in Hebrew, English and Yiddish.
I also give free online classes at TorahAnytime.com exploring mental health through the lens of chassidus and holistic living.
You've done so much to fund SANE independently from communal fundraising over the years. What are some of the methods you've employed?
There are several programs I've started that fund SANE. One is the Bnai Tzedakah Thrift Store. We collect gently used clothing and household items and all proceeds will help provide critical services to individuals in crisis. To schedule a pick-up you can call 516-476-0845.
I also work with Juice Plus, a kosher, whole-foods supplement company, which financially supports SANE. Contact Jenia Yashaya at jenia@holisticbodycouture.com and mention SANE. As well as other businesses.
Today you're running a Charidy campaign to raise $50,000 for families in crisis. Why now?
I've really tried to stay away from fundraising over the years. Mostly because I feel so much time and energy is required to do fundraising right, and it would take me away from what I do best—helping people. But there's an increasing need in the community and so many more people who need your support. The time is now.
How can we get involved and make a difference for our community?
We are always looking for volunteers or anyone who wants to make a difference and partner with us in helping more families. Right now, there are several families in dire need who are relying on the success of the Charidy campaign to overcome eviction, receive camp and tuition assistance, as well as continue current therapies. I ask that anyone reading this article take a moment and get involved now.
While this campaign was created to empower existing members within the SANE community, if you or someone you know is facing challenging circumstances, we are here and will do our best to help.
If you've already joined the campaign, please share with your friends and family. Get the word out and help raise awareness and support for individuals struggling with of mental illness.
Together, we can build a thriving and dynamic future for our children.