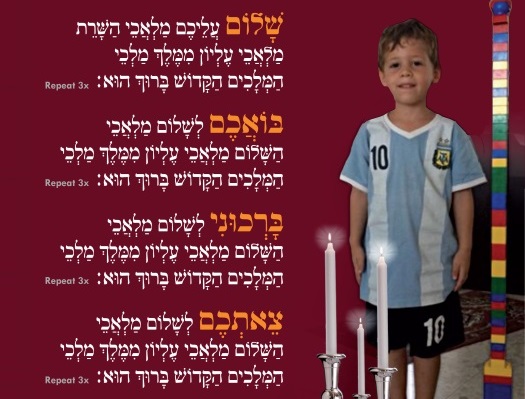 This Shabbos, our hearts and thoughts will turn to remembering Daniel Tregerman, OBM. This innocent four-year-old boy was killed by a mortar shell fired by Hamas at Nahal Oz, near the Gaza strip. At his funeral, his grandfather tearfully spoke of how much his little grandson loved "Shalom Aleichem" and then, in a voice cracked with pain, the grandfather slowly sang the lovely melody.
When Chabad Terror Victims Project staff went to comfort and assist the Tregerman family, they reiterated again how much "Shalom Aleichem" meant to Daniel.
This week, at our own Shabbos tables, let us keep Daniel's memory alive by dedicating our own "Shalom Aleichem" to him and to his family.
Together we will remember Daniel forever. May his memory be for a blessing.
Please ask your communities to do the same.
To print a resolution flyer for your Shul or Chabad House please click on this link: http://www.ctvp.org/templates/blog/post.asp?aid=2652996&PostID=48310&p=1