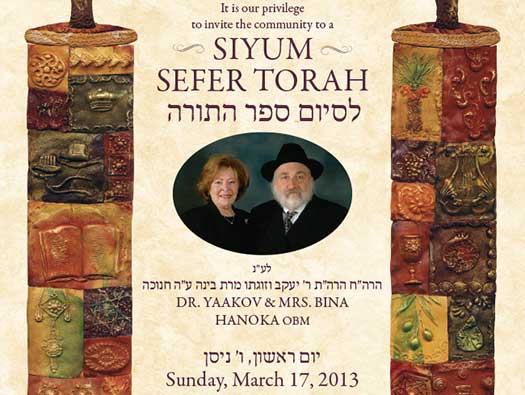 On Sunday, the family of Dr. Yaakov and Bina Hanoka OBM will be completing the writing a new Sefer Torah in their memory, following which a parade will go through the streets of Crown Heights.
About the Hanoka's:
Bina Hanoka was born in Poland to Gitel and Yehuda Aryeh Leib Herzberg. Her childhood was filled with the daily struggles of survival in war-torn Europe. While she fled with her family to Siberia and then Asia ahead of the Nazi onslaught, Bina learned from her elders that kindness to others, and self-sacrifice for others, are at the heart of Jewish survival.
In Tashkent, during the war, when the family barely had bread to eat, her grandfather would bring home refugees to eat and sleep, saying, "For another Jew in need, there is always room."
It is no wonder Bina grew up to transmit this treasured legacy to her children and her students. She married an American graduate student, Yaakov Hanoka in 1964, and together they built a Jewish home in State College, PA.
Soon the growing family settled in Brookline, MA, and the Hanoka home soon became the go-to place for a good Shabbos meal and warm hospitality, thanks to its balabusta and akeres habayis.
Bina regularly participated in the Rofeh program, run by the Bostoner Rebbe, zt"l, to assist Jewish patients in the world-famous Boston medical centers. She would drive patients to the hospital, serve as a Yiddish and Hebrew translator and provide accommodations to families of patients from New York and Israel. For almost 50 years, Bina taught elementary Jewish studies, instilling in her students a love of Judaism and Torah. To this day many of her former students (now grandparents themselves) approach Hanoka family members with memories of Morah Bina's soft and subtle warmth toward each student.
Together with her husband, Mrs. Bina Hanoka raised five children who are all raising large chassidishe families of their own.
Born to a traditional Jewish family in Highland Park, NJ, Dr. Yaakov Hanoka was raised in a warm, loving home imbued with the warmth of the Sephardic Jewish tradition. His father, Yitzchok, was a founder of the Eitz Hachaim Sefardic Shul in Highland Park, NJ. At Penn State University, where he was pursuing his PhD in solid state physics, he met Lubavitcher yeshiva students visiting his campus, and soon decided to visit Lubavitch World Headquarters in Brooklyn, N.Y. Yaakov told the Rebbe of his desire to enroll in yeshiva. The Rebbe agreed and told the yeshiva faculty that Yaakov was "the start of a new trend of Jews returning to Judaism," one of "thousands" who would enroll in yeshivos in the coming years.
Several weeks after his arrival, at the Rebbe's suggestion, Yaakov organized a project that brought college students and professors to Crown Heights for a weekend. The project became known as "Encounter With Chabad," or "pegisha." This became a regular program and brought hundreds of people closer to Yiddishkeit.
At the end of his year in yeshiva, Yaakov wanted to become a campus rabbi. The Rebbe instead instructed him to return to university and finish his doctorate. He would "do more for Judaism with three letters after his name," the Rebbe told him. Shortly thereafter, with the Rebbe's encouragement, Yaakov married his soulmate, Bina Herzberg.
Despite playing an active role in his field — he held 56 patents in solar energy — learning Torah and strengthening Jewish identity remained his central focus. Dr. Hanoka was a pioneer among modern scientists, one of the first to explore the interplay between science and Torah.
~~~
As a tribute to Yaakov and Bina Hanoka and an aliyah for their neshamos, the family has undertaken to write The Yaakov and Bina Hanoka Memorial Sefer Torah. The Sefer Torah will be dedicated for use by new shuls in the start-up phase, when they are in need of a Sefer Torah until they can buy their own. The family invites you to join in this effort to perpetuate the legacy of these two exemplary chassidim. The purchase of a sefer, a parsha, or even a letter will further this effort immeasurably.