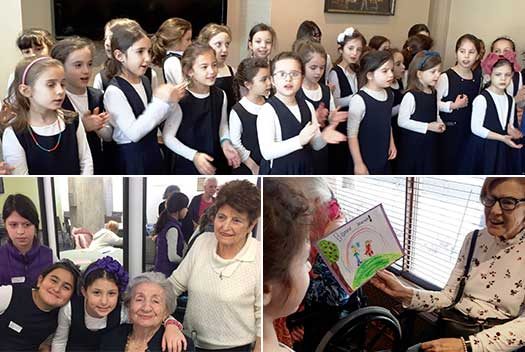 Beis Rivkah of Montreal marked Yud Shvat in a very meaningful way. Four bus-loads of students were transported to uplift the lives of others.
All Elementary students (from the very youngest grade-one students and up) visited numerous senior-citizen centers and nursing homes throughout Montreal and its suburbs. The children were received very enthusiastically by the staff and residents. Original interactive Mitzvah-themed games and songs kept the students involved with the seniors. There was no generation-gap! Popular songs of parts of davening encouraged the residents to join in, saying Shma, Adon Olam, etc. LED Shabbos candles were distributed. As the children left the places that they visited, the residents begged them to return more often.
One grade went to assist in the MADA Chabad Center, which also provides hundreds of meals to needy individuals.
The junior High School students presented programs for children in day-cares.
The teachers, who accompanied the children, were impressed to see how all the girls, including the shy students, interacted with the seniors. Every girl had a chance to shine.
Rabbi Yosef Minkowitz, principal of Beis Rivkah, remarked that the students returned to school full of inspiration, knowing that they merited to fulfill the Rebbe's shlichus to brighten the lives of many people.