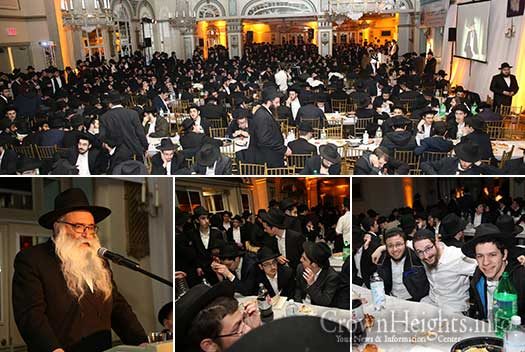 Thousands of Bochurim gathered for the 14th Annual Kinus Hatmimim Haolami, featuring addresses from Rabbi Yosef Klyne, Rabbi Yosef Yitzchak Gurevitch & Rabbi Mendel Schapiro.
The Kinus is the annual gathering of Lubavitch bochurim learning in Chabad Yeshivos worldwide, which takes place in Crown Heights.
In a significant change of venue, the thousands of Bochurim packed into the ballroom at Oholei Torah to hear an addresses a number of Mashpiim.
Following the formal part of the program Bochurim sat down for individual farbrengens which lasted deep into the night.
Throughout the weekend the Vaad Talmidei Hatmimim arranged a host of programs to provide the residents of Crown Heights and the many guests a meaningful and inspiring experience as well as programming for the hundreds that elected to spend Shabbos at the Ohel.