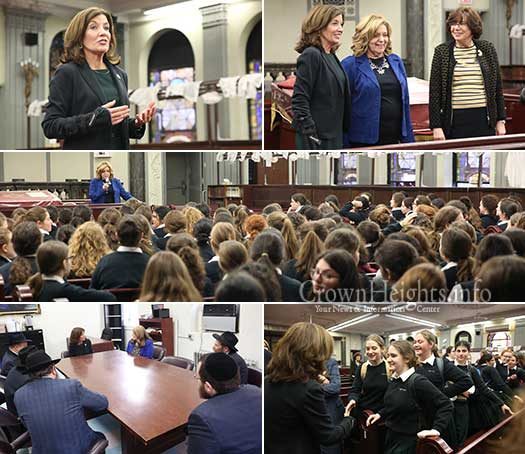 New York State's Lieutenant Governor Kathleen Hochul was in Crown Heights today and visited its largest private girl's school, Beth Rivkah, and discussed the importance of private education with school leaders and local activists.
by CrownHeights.info
Students in Beis Rivkah high school were honored to host Kathleen Hochul, the Lieutenant Governor of the State of New York, for a meeting with a group of students and learned about the school and its challenges.
Speaking to the students Mrs. Hochul described her humble beginnings from a trailer park in Buffalo, New York, where she credited her good education that enabled her to get involved in local politics, then moving on to being elected to the United States Senate, then Lt. Governor of the state.
Following her address, students posed a number of questions, among them she was asked about how she felt about being a politician in a field dominated by men. She responded that she is currently the only woman in her circle of governor, comptroller and state attorney and that she is proud of her accomplishments.
She was also asked if she was ever discriminated against, which she said she was not and that she believes that it others have and it's something which must not be ignored.
Following the visit she met privately with school administrators and discussed specific challenges that the school faced – namely money for capitol development for expansion. "I heard you and message received" she said. "I will pass it on, and I don't make promises that I can't keep, but I will advocate on your behalf."
This visit came following the State of the State address in which members of the Crown Heights Jewish Community Council were present. Following the address they met with Mrs. Hochul and invited her to come for a tour of the local institutions which she took them up on.
The New York Post saw the visit as a political skirmish, taking place in the backyard if city councilman Jumaane Williams, who recently announced that his challenge of Hochul in the upcoming elections.
"She wants to understand the needs of the Jewish community, particularly in education. We have a large private education network," said Eli Cohen, executive director of the CHJCC. "It has nothing to do with the election."
Hochul is a former Buffalo congresswoman who ran as Governor Andrew Cuomo's running mate in 2014 and said she intends to do so again this year. The governor and lieutenant governor are elected separately.