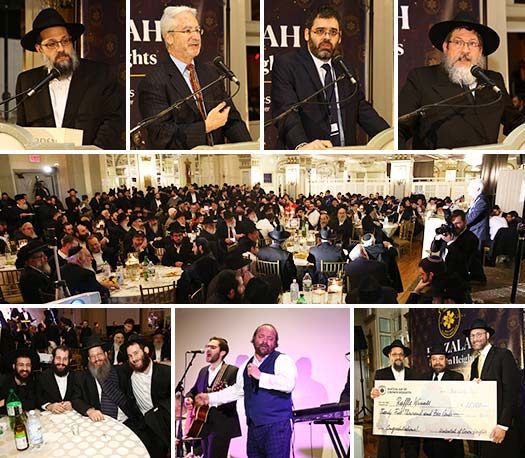 Hundreds of men and women turned out this Motzai Shabbos for Crown Heights Hatzalah's annual Melava Malka, health symposium and raffle for $25,000.
Emceeing the evening was Rabbi Levi Garelik, himself a beneficiary of the lifesaving work of Hatzalah, opened the event and spoke about some of the things that can be done to prevent a tragedy. He then introduced Dr. Kenneth D. Gibbs, the President and CEO of Maimonides Medical Center, who spoke about the innovations in treatment at his hospital and how they are working to keep medical innovation and treatment in Brooklyn.
Dr. Ory Wiesel, who is in the Department of Thoracic Surgery, was introduced next and he gave a detailed presentation on smoking and its harmful effects. Dr. Wiesel is a former member of the Israeli Navy's special forces and he related how he would always see his friends smoking. He went into detail on the effects and the tools they use to treat thoracic cancers.
A video was then played telling the story of the daughter of Bentzy and Chaya Chesny who choked on a piece of frozen yogurt. Were it not for the efforts of the Hatzalah volunteers the outcome could have been far worse.
The Melava Malka featured a delicious spread of dairy and parev food catered by Benny Turk of Turk Cateres, a wine bar by Yudi and Mendy Eber of Eber's Wines, and a special performance by Yehudah Green rounded off the evening.
The highlight of the night was the raffle drawing for the grand prize of $25,000. The lucky winner was Rabbi Sholom Charitonow. Also raffled off – as a door prize – was a double bottle of Yarden Cab 2010 in a wooden box, won by Yanky Teitelbaum.
At the conclusion of the event Yossi Friedman thanked the evenings sponsors, and gave a special mention to Aron and Mirit Hershkop of East New York Auto Center for servicing the ambulances. He also thanked Binyomin Lifshitz of CrownHeights.info for their help in promoting the event.
Attendees received a free scarf embroidered with the Hatzalah logo.