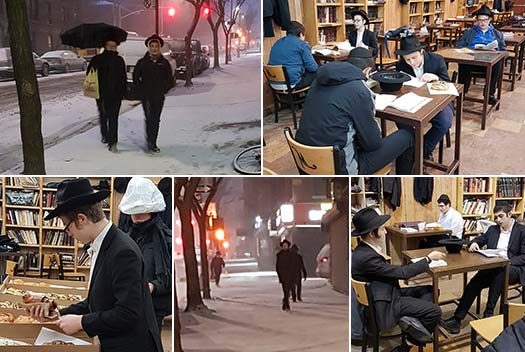 Severe weather and snow did not stop Bochurim from Oholei Torah Mesivta from getting to Yeshiva early to participate in a special Mivtza preparing for Yud Shvat.
Since the 10th of Teves, being 30 days before Yud Shvat, a Hashkem Project was initiated in the Oholei Torah Mesivta as a preparation to Yud Shvat, in accordance with the Rebbe's directive.
The seder begins at 7:00 am, a half hour before regular Seder begins. The Bochurim are learning the ma'amorim of Bosi L'gani, which are based on the 8th chapter of the original Basi L'gani.
Well over 50 Bochurim participate in this special Mivzta for Yud Shvat, but with today's Snow blizzard the Bochurim came with extra chayus, and excitement! Today's weather, which shut down many of the yeshivas in the Tri State area, Oholei Torah remained open, as has been its policy since its inception over 60 years ago.
Hot coffee, Cocoa and fresh danishes are prepared for the Bochurim to attend, yet as one brochure said, the fact that we are doing something special for Yud Shvat, and the nachas the Rebbe has from this special extra half hour, is what motivates him to join this Seder, even at its early hour. But, nevertheless, the hot drinks were for sure were appreciated this morning.