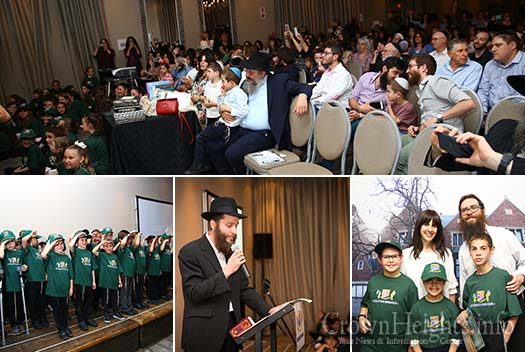 Tzivos Hashem, Hashem's army in Johannesburg has become much stronger. A most recent event at the school year end was a huge success, entitled "Salute the Soldiers". Each one of our soldiers were awarded and saluted by their proud parents, grandparents and the hundreds in attendance.
After a gourmet buffet dinner we heard inspirational words from the principal of Torah Academy Primary School, Rabbi Motti Hadar. Guests were treated to a video illustrating the vision of Tzivos Hashem, and a talk from one of our founding donors, Shraga Jameson. An elegant exhibit on the "Power of Children" taken from Midrash and Gemorah, was on display created by the children and their high school mentors.
Rabbi Zevi Wineberg together with his wife, Devorah Leah, Directors of Tzivos Hashem, shared the future vision. "This is a local powerhouse in Hashem's army. In addition to a weekly mission program, the soldiers are empowered with local Farbrengens, Mivtzoim trips and learning projects to encourage them" explained Devorah Leah.
"In the coming year we plan to join the international Tzivos Hashem body. In addition we will be launching a leadership initiative with the high school students who will be trained as mentors for the the younger soldiers" she added.
The event, left all the children feeling proud and their parents inspired and committed to the future of this organization.