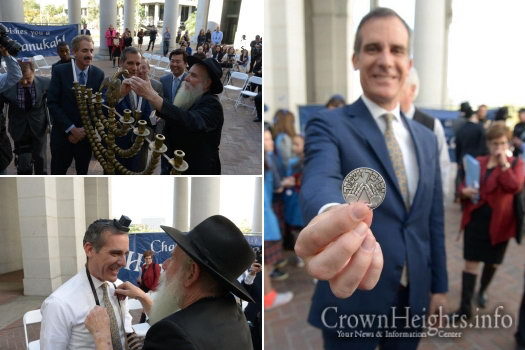 On the first light of Chanukah, a memorable celebration took place at the city hall of the second largest city in the United States: Los Angeles.  In attendance was the head Shliach of the West Coast, Rabbi Boruch S. Cunin, the first Jewish mayor of the city, Eric Garcetti, and many other prominent officials.
Honored at the event were all the firefighters who are fighting one of the deadliest wildfires in the state's history.  Over 270,000 acres have burned, many have lost their homes and two have tragically lost their lives, including a 32-year-old firefighter.  A special mezuzah was presented to battalion chief Eric Talamantes of the Los Angeles Fire Department as a symbol of protection for the brave men and women on the front-lines who are protecting the citizens of California.
The master of ceremonies of the event was Rabbi Moshe Greenwald, who began the ceremony by relaying a message of hope for all the citizens of the state.  He mentioned that we "fight fire with fire" we protect those fighting the wildfires by lighting the spiritual fire of the Menorah.  Rabbi Boruch S. Cunin followed by relaying the Rebbe's powerful words of hope and encouragement in times of challenge and distress and by explaining the significance of the Chanukah lights during times like today.
Mayor Eric Garcetti drove home the lessons of Chanukah by stating that despite the difficulties the state is facing today, we have hope of a brighter tomorrow.  The message of Chanukah is all about hope.  He also mentioned that he will be celebrating the holiday in his home as well with a Menorah, dreidel and latkes.
At one point, Rabbi Cunin surprised the Mayor with a special gift: a commemorative coin minted from a silver coin the Rebbe had given Rabbi Cunin many years prior.  Mayor Garcetti placed the coin in his pocket, stating that this coin will always be close to his heart and will hold a special place in his life.  He also reaffirmed his commitment to visit the Ohel in the near future.
Rabbi Cunin then put Tefillin on Mayor Garcetti.  This display of Jewish pride was an incredible Kiddush Hashem for all those present and it inspired many of his staffers to put on Tefillin as well – some for the very first time.
All in attendance were treated to a special presentation by the Kol Yaakov Yehudah Boys Choir, led by Rabbi Mendel Duchman and his son Yakov Yehudah.  In addition, children from Yavneh Hebrew Academy joined the festivities by reciting a special Chanukah poem. The children were superb and they brought a special measure of joy to the City of Angels.
This 34th  annual Menorah Lighting at the Los Angeles City Hall was organized by Chabad of the West Coast, led by Rabbi Boruch S. Cunin, Rabbi Moshe Greenwald of Chabad of Downtown, and Rabbi Shalom Dovber Cunin.