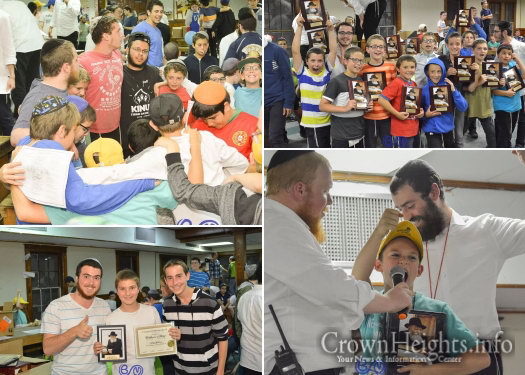 The atmosphere in the dining room was a mixture of joy and melancholy as the first trip of Camp Gan Yisroel in Parksville, NY, came to an end. Joy, as the winners of bunk, learning class, and sports competitions were announced, and the sadness of parting as campers wished their friends farewell.
The past few days were filled with tense competition; each bunk trying to get the decisive few points to gain the lead in bunk competition; each camper finding another few minutes to review yet again a halacha in hopes of winning the Klooger learning competition; the playoff teams vying to make it all the way to the Championship game.
The banquet was the culmination of their efforts; the dining room rocked with cheers as winning campers, bunks, kvotzos, and teams were announced. As they bid farewell to the campers that were on on their way back home, they welcomed the influx of campers who arrived for the second trip, another month that promises to be memorable and exciting.