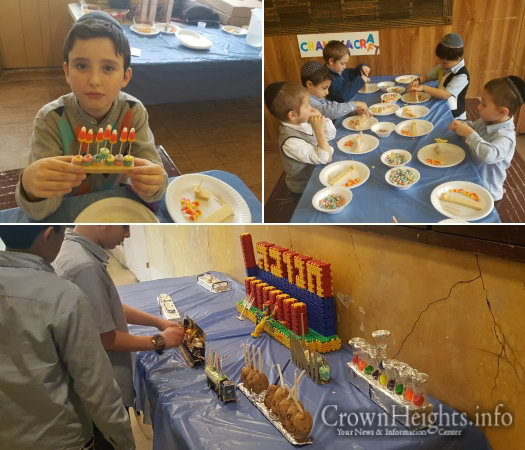 The sounds of laughter and music filled the halls of Lubavitcher Yeshiva of Flatbush this past Tuesday, as the boys were treated to a fabulous Chanukah carnival sponsored by their wonderful PTA.
With the help of the dedicated eighth graders running the various booths, wafers and fruit loops turned into delicious Menorahs in the edible Chanukah crafts corner, while across the room, crowds of boys waited their turn to walk the backwards Dreidel Mirror Maze. Placing the shamash on the correct place on the giant cardboard Menorah was quite a challenge while wearing a blindfold, but the students had a great time encouraging each other as they tried. There was so much going on it was difficult to decide which line to join but each student had a chance to play at so many booths. Shuffle the Cup to find the dreidel, and a giant Dreideland game were both big hits and the boys earned loads of tickets that they traded for fantastic prizes.
The Menorahs on display as part of the Build Your Own Menorah Contest were so incredibly creative and impressive. Choosing a finalist was nearly impossible, so each participant received a special prize, culminating with the grand prize Menorah winner. Fresh doughnut in hand, and with a happy smile, each child left a winner!