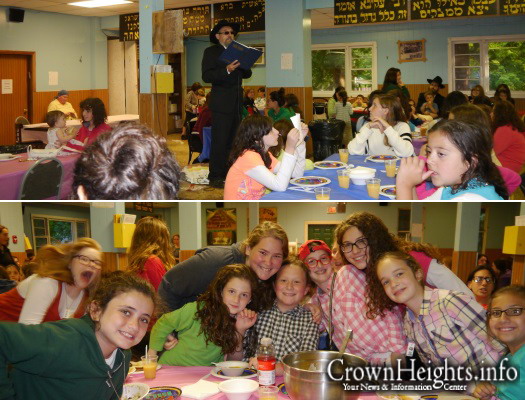 Ever since his daughter celebrated her Bas Mitzvah at Camp Emunah B'nos Yaakov Yehudah more than 15 years ago, Rabbi Naftali Estulin,  Rabbi of Chabad in West Hollywood and Chabad Russian Immigrant Program & Synagogue, has been visiting the camp to celebrate with the girls whose Bas Mitzvahs fall in the summer months.
Not only did Rabbi Estulin cover the expenses for the special Bas Mitzvah banquet, along with its special ice cream birthday cake dessert, but he also treated all of the campers and staff to $7 spending money – with the request that one of the dollars be given to Tzedaka for the safety and well-being of our soldiers and people in Eretz Yisroel.
Rabbi Estulin opened the evening with a Siyum, so that the meal can be considered a genuine Seudas Mitzvah
The program included remarks from Rebbitzen Chave Hecht – Senior Director of Camp Emunah, Baila Rochel Kievman – Director of Programming, and a Bas Mitvah camper.