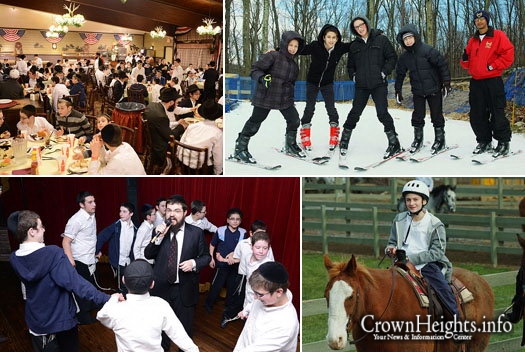 7th and 8th grades from the Oholei Torah Mechina division traveled this past week to Rocking Horse Ranch in Upstate NY for their annual Tmimim Trip.
After months of special projects and activities in preparation for this trip, the 170 young tmimim enjoyed two full days of skiing, horseback riding, snow tubing, catered meals and much much more.
Joined by their hanhola, Rebbeim and madrichim, the young tmimim spent their time with the very best both b"gashmius and B'ruchnius. – A power point shiur from Rabbi Levi Feldman, shiurim from Rabbi Mendel Polter and a kumzitz that lasted way into the night.
One of the highlights was a "surprise" concert from singer Benny Freidman and musician Yossi Cohen.
The trip was coordinated by Rabbi Sholom Goldstein, principal of the Mechina Division and members of his devoted staff.
Unique to this year was the seasoned counselors, Mendy Marlow, Yisroel Matasuf, Levi Simon, Nissin Zibell and Yossi Tiefenbrun. The meals and 24 hour tea room was catered by Mendel Levitansky.
One of the many sponsors of this event said, "I always try and help out programs benefitting our community children, but I must say the Tmimim Program in Oholei Torah stands out, just ask any child who participates, or any rebbe of those grades and they will tell you, it gives a great chayos in the atmosphere of the whole year.