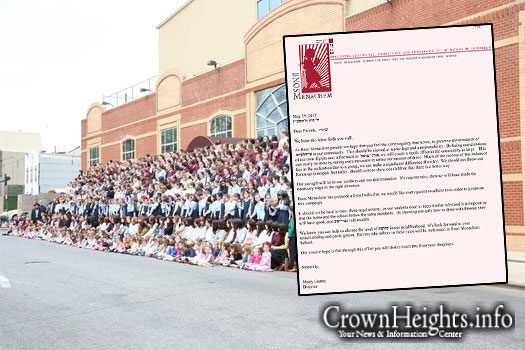 Weighing in on the debate over Tznius that was sparked by a letter to the parents of Crown Heights girls' school Bnos Menachem, Rabbi Avrohom Brashevitzky, Shliach to Doral, FL, shares his thoughts on this controversy, while tying it into this week's Parsha – Behaalosecha.
With all the recent back and forth about the Tznius issue in our midst, I was reminded of a famous Chassidishe story. A Chosid once called a Misnaged who considered himself to be a big Rav and Talmid Chacham – A Shvantz. He was promptly summoned to a Din Torah, where he was ordered by the judges to apologize for disgracing the "Kovod HaTorah". The Chosid insisted that for the sake of "Kovod HaTorah this must be done in public, in the presence of the entire community. The Chosid got up on the Bimah, in front of a packed Shul and described in full detail what transpired. At the very end of his speech and after being sure to mention that the Rav was a Shvantz, he "apologized".
You understand where I'm going with this – whereas up till now it was a private matter between him and this Rabbi; now the entire town was talking about the fact that he was (or wasn't) a Shvantz! A private school director sought to influence (dictate) a few hundred families and ended up stirring up a discussion which has garnished over 500 comments and still counting! The people who are most complaining about the merits of the message and the messenger did the most to broadcast the message and open the discussion! Those who were most offended by the message which was intended to a finite number of people, created the (necessary) storm which helped blow it into awareness of all of Anash the world over!
Great job! Well done! I'm not here to "take sides", although it is clear that we've got a problem; and a big one at that. I'm just trying to introduce some perspective, some food for thought. For starters I'm very encouraged by that fact that everyone seems to have jumped into the discussion, whether for or against – it demonstrates how much everybody does really care about this issue. As The Rebbe Rashab once explained that if in speaking to a Yid about Yiddishkite one finds that the Yid "Heibt un Brikken" (lit. he starts to kick) – he gets annoyed, angry – one should take it as a good sign. If it steers up some emotion, it's a sign that he still cares about Yiddishkite – it means something to him. Otherwise he would be totally apathetic. The same here, even those arguing against the issue are obviously concerned (or at least bothered) about the issue.
Amazingly and B'hashgacha Pratis there's a lesson in this week's Parsha relating to this entire matter. In the story of Pesach Sheini, The Torah takes the time to give us some detail as to how it came about. As The Rebbe always taught, these must have an eternal and practical message for all of us. The Torah relates how several people approached Moshe and stated "we are Tamei why should we be left out". Notice they didn't come to Moshe to declare that reality has changed, circumstances are different, thus He needs to change the rules. They came to Moshe with the clear understanding that they had a problem, they needed assistance. They first declared "WE are the ones who have a problem". They didn't pursue the option of attacking Moshe for "making up these ridiculous rules" that barred them from participating with everyone else. Rather they accepted that they are the ones in need of some special accommodation, not everyone else!
We ALL need to accept and not sweep under the rug, the fact that we do have a problem in our community. We need to admit it out loud and deal with it, instead of attacking the messenger. Perhaps he isn't the choicest for the situation. Perhaps someone could have advised him to have some Rebbetzins sign off on it (which would have left certain individuals with the difficult task of figuring out the "right reasons" for disagreeing with the message!). WE NEED TO ADMIT (at least to ourselves) THAT WE DO HAVE A PROBLEM!
How to deal with it, is already a whole other issue. Of course, every place is different and as Chassidim of The Rebbe we must remember to always portray and behave with full Ahavas Yisroel. Also we must be practical and realistic how we go about finding those solutions. For example, I live in Miami where we have a wonderful school for the Chinuch of our children. The fact is however that there are all kinds of Chabad (and non-Chabad) families who attend the school. If you observed the carpool you will feel like you are standing on a typical street in Yerushalayim: all kinds of attire and head coverings (and not). Long beards, short beards and no beards. Shaytels (very long! And short) and regular head coverings to Sphardich head coverings to no hair coverings. This is a Chabad school for everyone. The faculty follows a strict dress code; the parents are encouraged to bring their precious Neshamas to get a good Chinuch.
Crown Heights is very different. There are several options for one's children. You don't like the school – you don't send your child there. Period! If the rules in one school are too strict – don't go there. No one is forcing you to "tolerate" their strictness. These are private schools, serving a specific segment of the population and they have full right, and in fact an obligation, to cater directly to their clientele. Imagine someone decided to complain about the segregation in our Shuls and try to change it. If one doesn't want to tolerate these rules, they have (R"L) other options… Imagine buying an airline ticket and demanding consideration from the airline for your own choices, such as not using the seat belt or to remain standing in the aisles for entire duration of the flight. If you CHOOSE to fly – you have to follow the rules! No one is forcing anyone to travel; certainly not with a particular airline.
Another major problem I have with many of the comments and the author of one of the OpEds: the pulling of "The Rebe Card". If you want to bring The Rebbe into this first become familiar with the facts, namely the well documented directives from The Rebbe regarding the matter of Tzinus AND specifically in (our) schools. A very important Chabad girls school in Israel was clearly directed by The Rebbe to follow the style and approach of the Beis Yaakov Schools in matters of Tznius! Perhaps it's time to publish an anthology of The Rebbe's directives, both public and private so those who are really interested in knowing the true facts can have better access to the information.
Speaking of Miami and Beis Yaakov I wish to conclude with the following. In Miami we get to experience an amazing assortment of Jews who come to vacation. It's literally a clashing potpourri of dress, customs and style. An image which stands out to me is seeing young couples – the man in a black Yarlmulka, tee-shirt and shorts; the woman in full Tznius attire, Shaytle and all. To me this just proves that the proper Chinuch does go a long way. It's obvious that these young men were never taught the importance and detail of Tznius for men. However, it is clear and evident that girls (in Beis Yaakov) have been taught. And that Chinuch stays with them throughout life. Whereas the couple considers themselves Frum (as evident from her dress code), the man who doesn't know better dresses in a manner which is not consistent with his real way of life.
Before this boomerangs into my face with the argument that "you are only seeing the ones who stayed with the program – how about those who left the fold (due to pressure of the discipline or what have you)" PLEASE hold your fire! You are CORRECT! This may not work for all the people all the time. However, THOSE WHO CHOOSE TO GO TO A SCHOOL WHERE THESES RULES ARE REGARDED AND RESPECTED – DESERVE TO HAVE THE RIGHT TO DO SO WITHOUT INTERFERENCE!
Until such time that all Jews will agree, on all matters – enjoy the debate without hurting or insulting anyone; have fun but not at someone else's expens AND MOST CERTAINLY NOT AT THE EXPENSE OF THE REBBE'S HONOR!