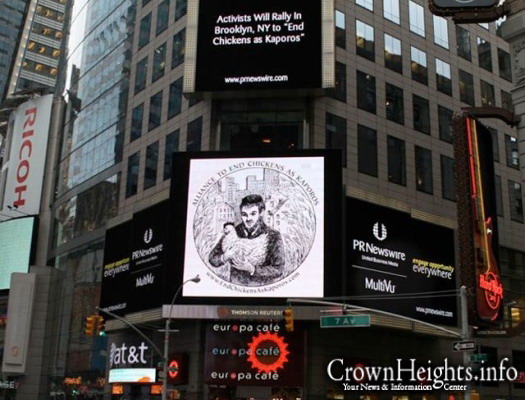 A Times Square ad calling for an end to traditional Kaporos.
In an op-ed published in the New York Daily News, Crown Heights resident Eli Federman responds to the criticisms of 'animal rights activists' regarding the ancient Jewish tradition of Kaporos, laying out in clear and concise terms why they should leave the pre-Yom Kippur practice alone:
This week, thousands of Orthodox Jews around the world will slaughter chickens in a symbolic atonement ritual known as Kaparot. The meat, and money raised, will be donated to the poor. Many Jews will donate money instead of killing fowl.
Every year animal rights activists and others protest, and call for a ban on the practice. The graphic display of blood and squawking chickens on city streets in Brooklyn and other densely populated areas is why this ritual is selected for outrage. Even some Jewish groups condemn the ritual as a barbaric relic of the past.
The outrage is selective and misguided since every year billions of factory-farmed chickens suffer the same, or worse fate, as they are hung upside down in shackles, throats cut, and immersed in scalding water.
According to USDA records, due to throat-cutting machine misses, "millions of chickens every year are still completely conscious when they are dunked into the scalding-hot water of the defeathering tanks."
Religious slaughter involves a trained rabbi quickly slitting the trachea, esophagus, carotid arteries and jugular veins in a single motion, with a pre-inspected razor sharp nick-free knife. This is arguably more humane than the factory-farm methods.
That's not mere speculation; there is research to support this. After assessing the "neurophysiological studies relevant to the assessment of pain," the Veterinary Record concluded that ritual slaughter is a "painless and humane method."
But ultimately facts don't matter to opponents, because factory killing takes place behind closed doors, whereas Kaparot takes place on city streets. The Humane Society kills 3-4 million cats and dogs every year with little fuss from the animal rights crowd.