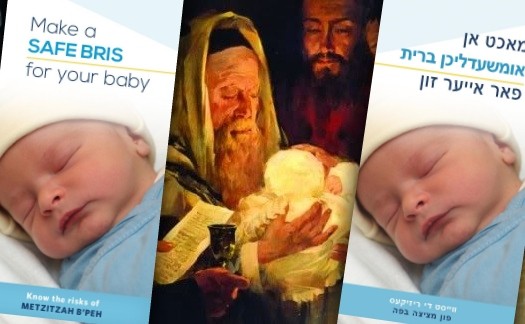 The New York City Department of Health and Mental Hygiene has created a new brochure on the supposed dangers of the practice of Metzitzah B'peh (MBP), which it will distribute to new Jewish mothers in hospitals throughout the city, in a bid to discourage them from having the ritual performed on their newborn sons.
The brochure was printed in both English and Yiddish.
The DOHMH sent the following message to healthcare workers in New York City, encouraging them to distribute the included flyers to Jewish mothers-to-be:
Dear Colleague:
The New York City Health Department is working to educate parents about the risks of a ritual Jewish circumcision (bris) practice known as metzitzah b'peh, in which the circumciser uses his mouth to suck blood away from the wound on the infant's penis. In 2014, metzitzah b'peh was linked to at least four cases of neonatal herpes simplex virus type 1 (HSV-1) infections among New York City infants. Herpes infection in infants can lead to serious illness, even death.
Parents who choose ritual circumcision for their son may not be aware that direct orogenital suction may be performed or may not be aware of its potential risks.
Please distribute the Health Department's pamphlet "Make a Safe Bris for Your Baby," to expectant parents and/or new parents who visit your facility. You can obtain additional copies in English or Yiddish by calling 311. For electronic copies, please visit the Publications Database at nyc.gov/health.
 If you have questions, or to report a potential case of neonatal HSV-1, please contact the Health Department's Provider Access Line at 866-692-3641.
Sincerely,
Mary T. Bassett, MD, MPH
Commissioner
Click on images below to enlarge. Click the following links for PDF versions of the flyer in English and Yiddish.