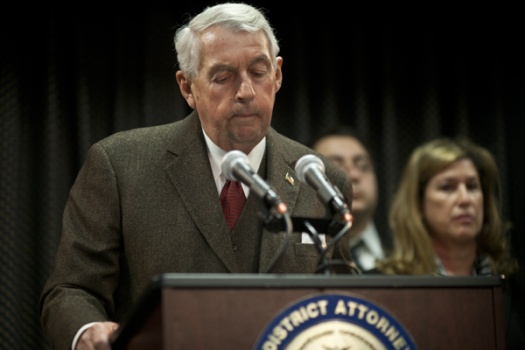 Brooklyn District Attorney Charles Hynes.
Brooklyn DA Charles Hynes – who was soundly defeated in last month's Democratic primary – will actively campaign on Republican and Conservative party lines in a bid to keep his job, his spokesman told The New York Post on Thursday.
"The DA is making a formal announcement to lay out the reasons for his decision to continue the campaign," said DA spokesman Jerry Schmetterer, who has taken time off to assist Hynes in the campaign.
Schmetterer confirmed that a fundraiser held in Bay Ridge on Wednesday night raised about $150,000 for the Hynes reelection fight.
"He's going to run on the Republican and Conservative line," said a source close to Hynes.
The 24-year incumbent Hynes was trounced by former federal prosecutor and political newcomer Ken Thompson in the Democratic primary. Thompson won 55 percent to 45 percent.
Hynes is eager to keep his job because of allegations – first reported by The Post – that former Brooklyn Democratic Party boss Clarence Norman, who the DA sent to prison for selling judgeships, played a key role in Thompson's victory.
Thompson has repeatedly denied any connection between himself and Norman.
"He's outraged that Clarence Norman is involved. Everybody says Clarence Norman is all over town pounding on his chest saying he took Hynes out," the source said.
"We put Norman in jail, and Thompson put him on the payroll," another source close to Hynes said.
"Please spare us the faux outrage based on false smears about Norman that Hynes and his allies manufactured and planted themselves," a Democratic source said. "It's really sad that the already disgraced DA who suffered a humiliating defeat is now determined to leave office as a sore loser too."
Hynes said multiple times, following his primary defeat, that he would not actively campaign in the general election. The defeated incumbent even said he'd set aside office space for Thompson's transition team.
"I think folks knew the record I had," Hynes said in his concession speech. "I guess folks came to the conclusion that it was my time."
While many prosecutors were nervous about Thompson, others were critical of Hynes' change of heart.
"Ugh. Seriously? Let's just move on already," said one ADA when told Hynes would campaign.
Thompson spokesman James Freedland bashed Hynes' decision to continue his run.
"It's sad that Mr. Hynes refuses to accept the will of the people, as he repeatedly pledged to do last month," said Freedland.
And he tried to link the longtime Democrat — whose name appears on the Republican and Conservative ballot lines much like the late Democratic Mayor Ed Koch's did — to national Republicans even though Hynes has long championed his office's progressive programs and sentencing alternatives.
"We look forward to a clear contrast between Democrat Ken Thompson and Republican Joe Hynes, who has lied to the public so that he can run with Joe Lhota and the Tea Party forces in the Republican Party who have shut down the government," Freedland said.
"And we are confident all of Brooklyn's voters will render the same overwhelming verdict as they did in the primary."
Brooklyn Democratic and Republican leaders weighed in on Hynes' decision.
"Ken Thompson won the primary fair and square.  This is no time for Joe Hynes to turn his back on the Democratic Party," said Frank Seddio, chairman of the Kings County Democratic Committee.
"The cynical Republican-led effort to create an internecine feud among Democrats in the race for Brooklyn District Attorney will end in failure."
Republican state Sen. Marty Golden said he's thrilled Hynes will run a vigorous campaign on Republican and Conservative lines
"Hynes will raise the money he needs to make this a competitive race. He has a proven track record," Golden said.
"I have spoken to some of Hynes people. He is out there raising money. It's going to be a close race."