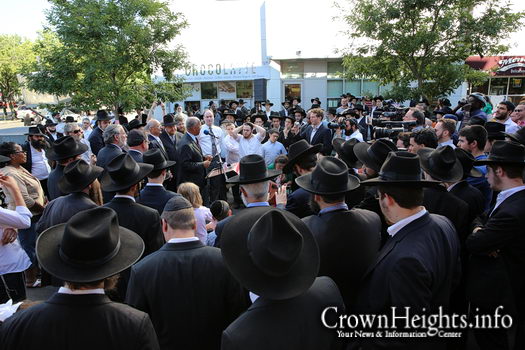 NYC mayoral hopeful, Democrat Bill Thompson, came to Crown Heights and snagged an endorsement from former US Senator Republican Alfonse D'Amato.
Most in Crown Heights would remember Senator D'Amato, 76, as good friend of the neighborhood's Orthodox community, having been a strong defender of its interests in the years after the August 1991 riots that led the community to file a federal lawsuit. The suit claimed the NYPD and then-Mayor David Dinkins did not protect Crown Heights Jews during nearly four days of violence that resulted in one death. It was settled by Mayor Rudolph Giuliani in 1998.
"It's exciting to know our good friend Sen. Al D'Amato is coming out for another good friend, whose father represented our community in the City Council," said Rabbi Jacob Goldstein, chairman of Community Board 9 in Crown Heights. He was referring to William Thompson, Sr., a now-retired politician and judge who enjoyed strong support from Jewish Democrats.