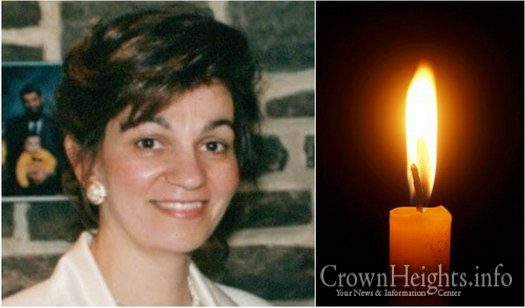 With great sadness we report the passing of Mrs. Shterna Sara Kalmanson OBM, daughter of the Mashpia Rabbi Heshel Ceitlin who spent her life on Shlichus in Cincinnati. She passed away on the Rebbe's birthday, Yud Aleph Nissan 5779.
She was 69 years old.
She is survived by her husband, Rabbi Sholom Ber Kalmanson, their children Mrs. Chana Alte Mangel (Blue Ash, Ohio), Rabbi Yosef Kalmanson (Mason, Ohio), Rabbi Mendy Kalmanson (Cincinnati, Ohio), Mrs. Menucha Majeski (Cincinnati, Ohio), Mrs. Devorah Leah Pinson (Detroit, Michigan), Rabbi Shneur Kalmanson (Chicago, Illinois), Mrs. Shaina Levin (Postville, Iowa) Mrs. Chavi Schechter (New Orleans, Louisiana), Mushky Kalmanson (Cincinnati, Ohio), and many grandchildren and great-grandchildren.
She is also survived by her mother Mrs. Riva Ceitlin of Montreal, and siblings Mrs. Brocha Teitelbaum (Crown Heights), Mrs. Zelda Yarmush (Montreal, Canada), Mrs. Esty Benshimon (Montreal, Canada), Rabbi Yossef Yitzchok Ceitlin (Toronto, Ontario), and Mrs. Devorah Leah Mishulovin (Los Angeles, California).
She was predeceased by her brother Rabbi Aaron Lazer Ceitlin OBM, the known Mashpia and one of the Rebbe's Shluchim to Tzfas, Israel.
The levaya will take place tomorrow, Wednesday, and will pass 770 at 11am.
Shiva information to be announced.
Baruch Dayan Hoemes: Shterna Sara bas Yehoshua Heshel