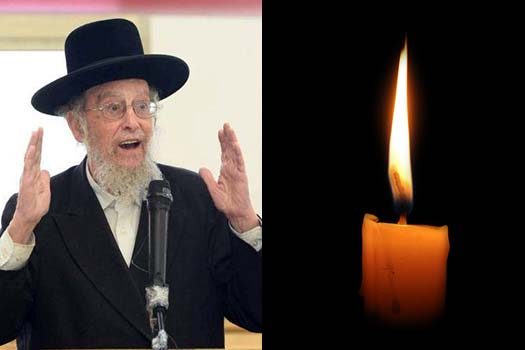 With sadness we inform you of the passing of Rabbi Dov Zev Slonim OBM, the Rov of the Jerusalem city center, member of Beis Din Rabbonei Chabad – Israel and among the elder Chabad Chassidim. He was 83 years old.
Born in 1934, to his parents Rabbi Yehuda Leib and Shaina Liba Slonim, who were the decedents of Rabbetzin Menucha Rochel Slonim, and was named after his grandfather Rabbi Zev Dov Slonim, who served as the Rov of the Chabad community in Chevron.
In 1981 he endeavored to print the Chitas, in order to strengthen the fulfillment of the Previous Rebbe's instruction to learn Chitas daily.
In 1979 he was appointed to serve as a member of the Beis Din Rabbonei Chabad – Israel, which was in addition to his position as a Rov and Mashpiah in the Chabad Shul 'Ohel Yitzchok' on the Baal Hatanya Street in Jerusalem.
Rabbi Slonim OBM compiled various Seforim, among them 'Halichos Olam' – laws and customs for the month of Elul, Rosh Hashana and Yom Kippur; 'Shaarei Halacha'; and 'Pardes Haparasha' on the weekly sedra.
He is survived by his children, Rabbi Aharon Slonim (Binghamton, NY), Rabbi Boruch Slonim (Modiin, Israel), Rabbi Shneor Zalman Slonim (S. Paolo, Brazil), Rabbi Yosef Yitzchok Slonim (Jerusalem, Israel), Rabbi Tzvi Slonim (Mitzpeh Ramon, Israel), Rabbi Yaakov Slonim (Givat Mordechai, Israel), and Mrs. Pesha Hadasa Osdoba (Jerusalem, Israel).
He is also survived by his sister Mrs. Devorah Kesselman (Kfar Chabad, Israel).
He is predeceased by his wife, Mrs. Gittel Leah Slonim OBM, who was the daughter of Rabbi Yisroel Feldman OBM, by three years.
The Levaya will take place today, Monday, 2:00pm from his home 74 Neviim Street, Jerusalem and will pass by the 'Nachalat Hashivah' Shul in Meeach Shearim on its way to the Chabad section of Mt. Olive where he will be interred.
Rabbi Aharon Slonim will be sitting Shiva today, Monday, at 603 Lefferts Avenue in Crown Heights. from 12:00pm to 7:00pm, and will continue sitting Shiva with his family in Israel on the following days.
Boruch Dayan Hoemes