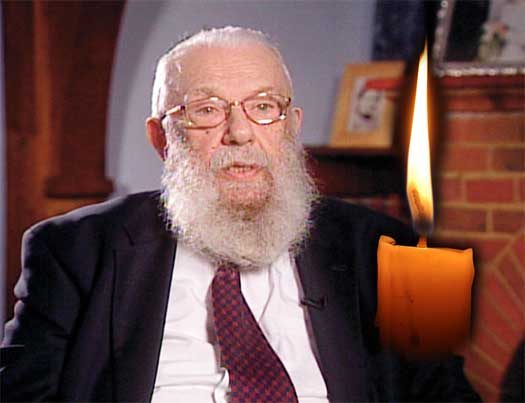 With sadness we inform you of the passing of Mr. Bentzion Rader OBM, a noted accountant and prominent member of the Lubavitch community in London, England. He was 92 years old.
Mr. Bentzion Rader, an accountant and a prominent member of the Chabad community in London England, passed away on Shabbos Parshas Behar-Bechukosai.
In an interview to JEM's Here's My Story, he described his first encounter with the Lubavitcher Rebbe and the profound impressions it made on him. Before the audience, he described how he had asked Rabbi Faivish Vogel, who accompanied him on his trip: "How do I explain my business affairs to the Rebbe? They are highly complicated!"
When the Rebbe finished reading, he turned to me and asked me a question that went directly to the heart of my field of expertise:  "In England, when a company is being floated on the stock exchange, how is it valued?"
I explained what was involved, and in response, the Rebbe said, "That's not the way we do it in America…" And he proceeded to explain to me the way a company was floated on the New York Stock Exchange.
The Rebbe went on to explain the difference between emunah and bitachon and proceeded to give me down-to-earth practical advice on how to deal with what was concerning me. His advice was invaluable to me. It was much better advice than I got from many of the professionals to whom I'd paid lots of money.
He is survived by his wife Hinda and their children, Rabbi Hershel Rader (London, UK), Mrs. Sandy Weinbaum (London, UK) and Mrs. Baumgarten (Johannesburg, South Africa) as well as many grand children and great-grand children.
The Levayah will take place today, Sunday 4:00pm from 11 Ossulton Way N2 0DT, passing by Beth Hamedrash Kingsley Way / Yeshiva Gedola to burial at Adas Yisroel Cemetery Cheshunt, Silver Street EN7 5JE.
Shhiva will be observed at 11 Ossulton Way N2 0DT.
Boruch Dayan Hoemes