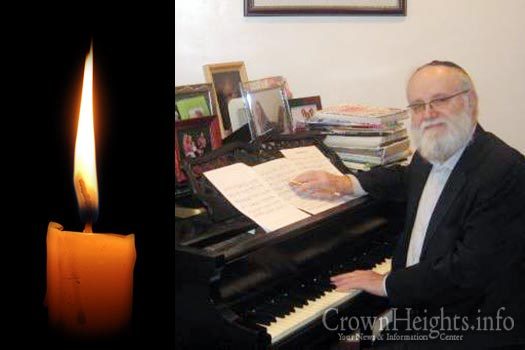 With sadness we inform you of the passing of R' Eli Lipsker OBM, a renowned musician and chazzan who led children's choirs. He was 76 years old.
He is survived by his wife, Leah and their children, Rabbi Yosef Yitzchok Lipsker (Pennsylvania), Mendy Lipsker (Crown Heights) and Shani Katzman (Omaha, Nebraska).
He is also survived by his siblings Rabbi Zalman Lipsker (Philadelphia, PA), Rabbi Motti Lipsker (Lod, Israel), Rabbi Pesachya Lipsker (Nachlat Har Chabad, Israel), Rabbi Menachem Lipsker (Tel Aviv, Israel), Rabbi Yosef Yitzchok Lipsker (Natzeret Illit, Israel), Mrs. Batsheva Feigenson (Crown Heights), Mrs. Tzvia Grossman (Kfar Chabad, Israel), and Mrs. Zahava Perlov (Crown Heights).
He is predeceased by his brother Rabbi Sholom Dovber Lipsker OBM, Rabbi Chaim Tzvi Lipsker OBM and Rabbi Ben Tzion Lipsker OBM and sister Henya Rivka Raskin OBM.
The following is from Lubavitch Archives:
Beloved Chabad musician, pioneer of the recorded Jewish music in the United States, Mr. Eli Lipsker, passed away. He was 76.
Born in the Soviet Union, where practice of Judaism was made difficult by the communists, his parents Chabad disciples, took an integral part in the Chabad underground and clandestine activities. On special occasions, under difficult conditions, his home was opened to others and chassidic gatherings would take place. An integral part of those gatherings, known as farbrengens, are the singing of chassidic melodies, or niggunim. Thus at an early age, he began to absorb chassidic warmth and melodies.
At the age of five his family smuggled across the border into Poland, and immigrated to Israel in 1948. In 1959, as a teenager, Eli travelled to New York, where he began his Talmudic studies, and had a chance to become an part of the court of the Rebbe, Rabbi Menachem Mendel Schneerson. Alongside his Talmudic studies, Mr. Lipsker continued to develop his music talents with studies in piano, accordion, theory and composition under the tutelage of leading music teachers.
When the Rebbe asked that recordings should be made of the Chabad melodies, at first Eli took part of the choir. However, later he became its musical director. From the late 1960's, as Chabad's presence began to be established across the globe, Lipsker led an adult and a children's choir, travelling to lead concerts in Chabad melodies. The evenings became known as "An Evening with Lubavitch."
"Eli Lipsker, the Lubavitch Chassidic singer," one California newspaper reported, "whose recordings are in many homes, will, stimulate the audience with the joyous and soul-searching Chassidic music. Mr. Lipsker will also lead the dancing as he does at many Chassidic meetings in New York."
Many will remember Mr. Lipsker from his entertaining the children at gatherings with the Rebbe at Chabad headquarters. "The normal procedure was that the children were entertained by clowns, Eli Lipsker's musicians, fire eaters and so forth," Mr. Zalmon Jaffe wrote in one of his reports from 770.
In his 1982 report, Mr. Jaffe records how difficult this must have been for Mr. Lipsker to keep up the tempo according to the Rebbe's clapping and encouragement of the signing: "Everyone tried their best, but not one person, man nor boy could approach anywhere near to the Rebbe's tempo. He was well ahead of the drummer, and poor Ellie Lipsker was trailing along many bars behind, and I – well – I just stood, gaped and stared in breathless amazement at such a wonderful example of physical prowess, strength and supremacy."
Mr Lipsker's vibrant tenor voice and accordion have appeared, over the years, on some of the most popular chassidic recordings, besides for Nichoach, also on the niggunim of Modzitz and Ger. He also served as musical director for the first two popular Pirchei recordings
Choosing his love for music, Mr. Lispsker was a music teacher to hundreds of students in some of the leading Day Schools and Yeshivos in metropolitan New York. Yet, while his concert schedule at Chabad Houses lessened, he still dedicated himself to Chabad niggunim, publishing several books of notes and recordings of nusach Chabad.
Talking of his and others devotion to Chabad and reaching out to Jews, Mr. Lispker told the Los Angeles Times in a 1990 interview, we are here "to help people with the Judaism they lack. [We] work hard under difficult conditions. But [we] have the Rebbe as inspiration."
The Levaya will take place today, Thursday, 11:00am at Shomrei Hadas and passing by 770 at around 12:00pm.
Boruch Dayan Hoemes