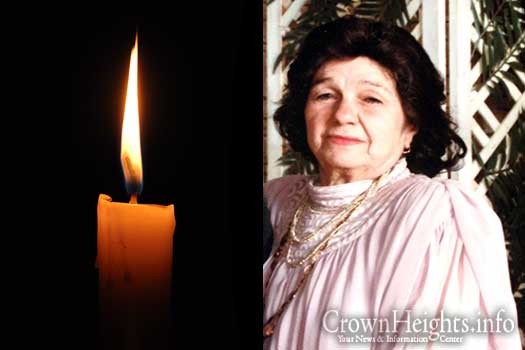 With great sadness we inform you of the passing of Rabbanit Mazal Tov Benhiyoun (Albo) OBM, long time resident of Crown Heights and direct descendent of Rabbi Yosef Albo, the Baal Ha-lkarim. She passed away Tuesday afternoon at the age of 99.
Rabbanit Benhiyoun was born in Morocco in 1914 where she grew up and married R' Eliyahu Benhiyoun OBM, also from Morocco. She was known as a great baalas tzedaka and malbish aniyim.
The nifteres is a direct descendant of Rabbi Yosef Albo, the Baal Ha-Ikarim, who is known chiefly as the author of the Sefer ha-Ikkarim ("Book of Principles"), the classic work on the fundamentals of Judaism.
She raised children and grandchildren who are Shluchim and Shluchos around the world.
She is survived by her children Mrs. Luna BenOuaich (Jerusalem, Israel), Mrs. Simcha Elhadad (Paris, France), Dr. Yosef Amram Benhiyoun (Paris, France), Ms. Ariela Zohar Benhiyoun (Crown Heights), Dr. Esther Reich (Crown Heights), Dr. Miriam Parks (Huntington Beach, CA), Mrs. Victoria Cohen (Kfar Saba, Israel) and Rabbi Meir Chai Benhiyoun (Chicago, IL). As well as many grand children and great grand children.
The Levaya will take place this afternoon, Wednesday, leaving Shomrei Hadas Chapels at 1:30pm and passing 770 at 2:00pm. From there it will move on to Montefiore Cemetary in Queens for burial.
Shiva will be held at 1305 President St.
Boruch Dayan Hoemes