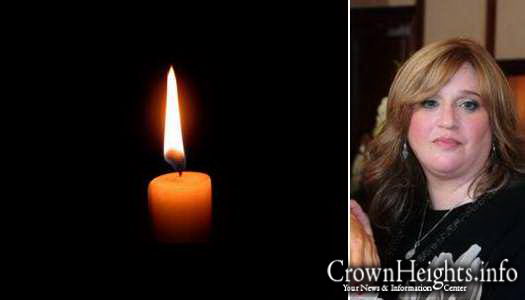 With great sadness and pain we inform you of the untimely passing of yet another soldier in the Rebbe's army, Mrs. Rivkie Barber, OBM, of Melbourne, Australia. She was 49 years old.
Mrs. Barber was a teacher in the local Lubavitch girls' school, and was much beloved by her many students. Her husband, Rabbi Yankie Barber, is the spiritual leader of a large congregation in South Caulfield.
Mrs. Barber passed away after suffering from a recurrence of Yeneh Machlah, which she had previously recovered from only to suffer from a relapse of the illness, r"l.
She is survived by her parents, Rabbi Asher and Nechama Heber; husband, Rabbi Yankie Barber; and children: Mrs. Perel Shmotkin (NYC), Chanie (Parkland, FL), Dovi (Crown Heights) Shaina, Leah and Mendel (Australia).
She is survived as well by her siblings: Mrs. Yaffie Begun (S. Paulo, Brazil), Rabbi Noach Heber (Crown Heights) and Mrs. Brocho Chana Metzger (Manhattan, NY).
The Levaya will take place this afternoon in front of 770 at 2:30pm.
Boruch Dayan Hoemes