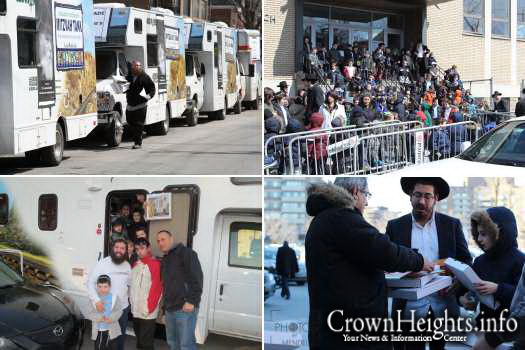 Five Mitzvah Tanks paraded through the streets of Montreal in honor of Yud Alef Nissan, marking the Rebbe's 112th birthday.
The first parade to take place this year celebrating the occasion, it was organized by Mitzvah Tanks Montreal, which is led by Rabbi Mendy Wilansky with the help of Hatomim Yisroel Cohen and Hatomim Avraham Menachem Freundlich.
Members of the Jewish community in Montreal helped sponsor the 'tanks,' in an effort to inspire as many Jews as possible to do a Mitzvah and attend a Pesach Seder.
The 'tanks' were 'armed' with Matzos, Tefillin, Shabbos candles and dozens of Bochurim who set out upon the city and reached out to hundreds of unaffiliated Jews.
Saluting the parade, aside from all the people who stared in wonder, were the children from Tomchei Temimim and Beis Rivkah schools, who came out to greet the parade and the 'Tankistim.'
The organizers added several novel concepts to this year's parade. "It's been 40 years since the Rebbe introduced Mitzvah tanks, and we decided to add a limousine to our tank parade," Rabbi Wilansky said. Yeshiva students had to memorize lines of Mishnayos for a chance to ride inside, and a spot in the limousine was raffled off to one boy in each class. Ultimately, more than 2,000 lines of Mishnayos were learned.
Last Friday morning, two of the tanks were parked in front of Beis Rivkah, and every class was given an opportunity to enter the tank, say a Berocho over a treat, give some Tzedokah, and say the 12 Pesukim. Over 350 girls from CPE through Elementary performed a Mitzvah in the tank.
A special thank you goes to the 'Tankistim,' Rabbi Yitzchok Lebovics, Rabbi Mendel Zilberstein, Rabbi Chaim Zirkind and Rabbi Leibele Rodal. A very special thank you goes to local Chabad activist Rabbi Dovid Cohen, who helped and worked on getting the necessary permits from the city of Montreal and the PDQ for the parade.